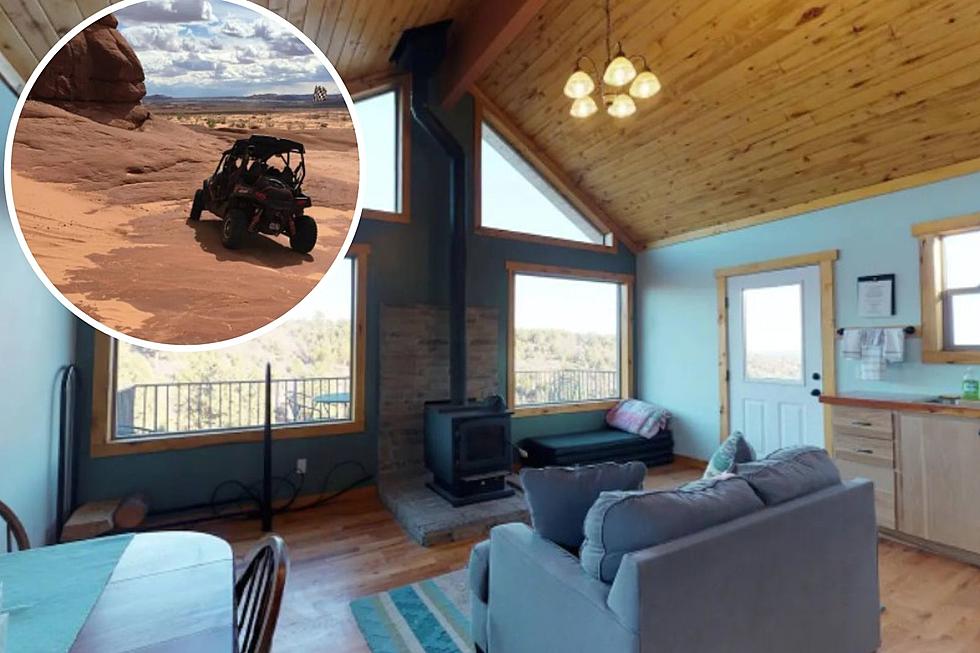 Utah Airbnb Lets You Enjoy the La Sal Mountains & Arches National Park
Airbnb.com
The change of seasons in Western Colorado has everyone ready to get back outside again, not only to explore the Grand Valley but the fun outdoor playground that lies beyond it.
If you have plans to make a spring trip down the backway to Moab, we found an Airbnb southeast of the area that offers a fun stay in the remote La Sal Mountains.
Enjoy a Weekend in Utah's La Sal Mountains
Enjoy one of the most scenic drives around down 141 to the Moab area and follow the Spanish Valley to the La Sal Mountain Cabin.
ATV and hiking trails are here and the Airbnb is just a couple of miles from a valley with a fully stocked trout pond so your weekend can include some fishing as well.
This Utah Cabin is Central to Several Moab, Utah Attractions
This solo cabin in Utah's La Sal Mountains is central to the Arches National Park, Canyonland National Park, Needles, downtown Moab, Native American rock art, dinosaur features, and lots more places to explore.
See Inside Utah's La Sal Mountain Airbnb Rental
Scroll through the photos below and see what this off-grid cabin has to offer. We've included a link to contact them for more info or to make a reservation at the end of the photo gallery. If you stay here, we would love a photo. Just open our station app to show off what you see out there.
Utah Airbnb: Enjoy Exploring the La Sal Mountains and Arches National Park
Relax in this single cabin Airbnb after a day of exploring Utah's Arches National Park or Canyonland National Park. This rental has room for 4 guests and is perfect for seeing the sites and still getting away from it all.
Photos: A Walkthrough of Colorado's Beautiful Palisade Rim Trail
Get south of the Colorado River in Palisade and head down G Road/ Highway 6 to the Palisade Rim Trail. Scroll through the photos below to get a look at the trail and the incredible view near the top.
Now & Then: See the Grand Valley Transform from 2008 to 2021
See the Grand Valley transform over the years with several 'then and now' comparisons that show the many cool updates that have occurred over the past decade.