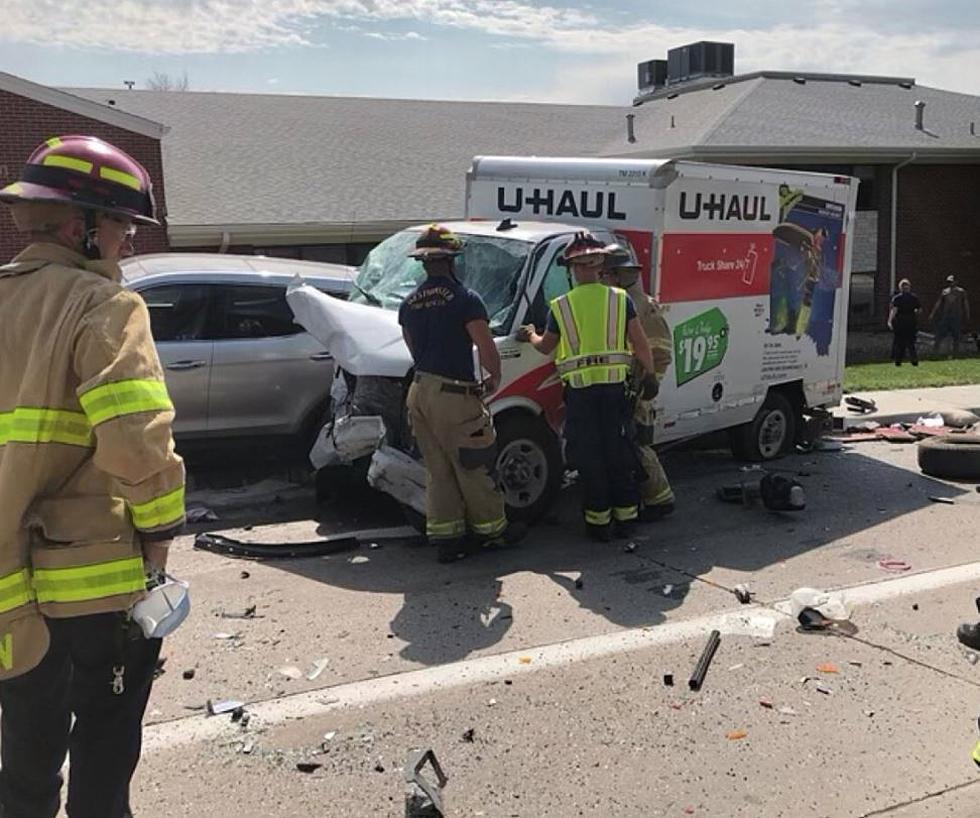 Woman Allegedly Kidnapped In U-Haul Rescued By Colorado Police
Twitter/Thornton PD
A woman that was allegedly kidnapped and thrown in the back of a U-Haul truck is shaken but OK after her kidnapper tried to evade police on a chase that eventually ended in a crash with another vehicle down in Thornton.
According to 9 News and the Thornton Police Department, officers responded to a 911 call about a potential kidnapping and a woman that was tied up in the back of a U-Haul truck. While that particular report was not true, officers responded and searched for the truck.
After the officers found the truck driving around Thornton, they activated their lights but the driver of the truck didn't stop until he crashed into another vehicle, causing injury to the driver in that vehicle.
The driver of the truck was arrested on the scene, where they found the woman in the back of the U-Haul, but she was not tied up and was actually the spouse of the driver, according to a press release from Thornton PD.
A Thornton police spokesman also said the woman wasn't in the truck against her will but that she did have a protection order against her spouse.
The spokesman also went on to say there were items in the back of the truck, including clothing and bedding.
This went from initially being a terrifying event to just plain bizarre. I mean...I'm sure being kept against your will in the back of U-Haul during a pursuit from the cops with your crazy significant other behind the wheel wouldn't be a "pleasant" experience, but it's good to know that nothing worse happened in this incident.
Our thoughts are with the woman injured in the truck that was hit by the U-Haul. Reports say that she was taken to the hospital with serious injuries so we hope for a quick recovery for her.
Do You Know These Odd Terms From the Colorado Urban Dictionary?
If you have ever seen the
Urban Dictionary
online, you know it can be pretty crude and disgusting. But, if you search deep enough you'll find some terms that you can relate to and appreciate. I'm not even sure how these terms ever came into existence, but over the course of time, they have been woven into the fabric of society. You'll find a number of Colorado terms in the Urban Dictionary along with their meanings and I decided to share a few of them with you, plus, I've added a couple of my own at the end.
These Photos Show Grand Junction's Drastic Change in a Few Short Years
Grand Junction is growing, there's no doubt about that. These photos from 2008 to now show just how much our small town has changed. In some cases, we have seen dramatic changes with brand new construction, and in some cases, we have seen changes in how we get around Grand Junction. Whether you have been in Grand Junction for a long time or you are a relative newcomer, you can enjoy this look back at how things have changed in Grand Junction over the past 13 years.