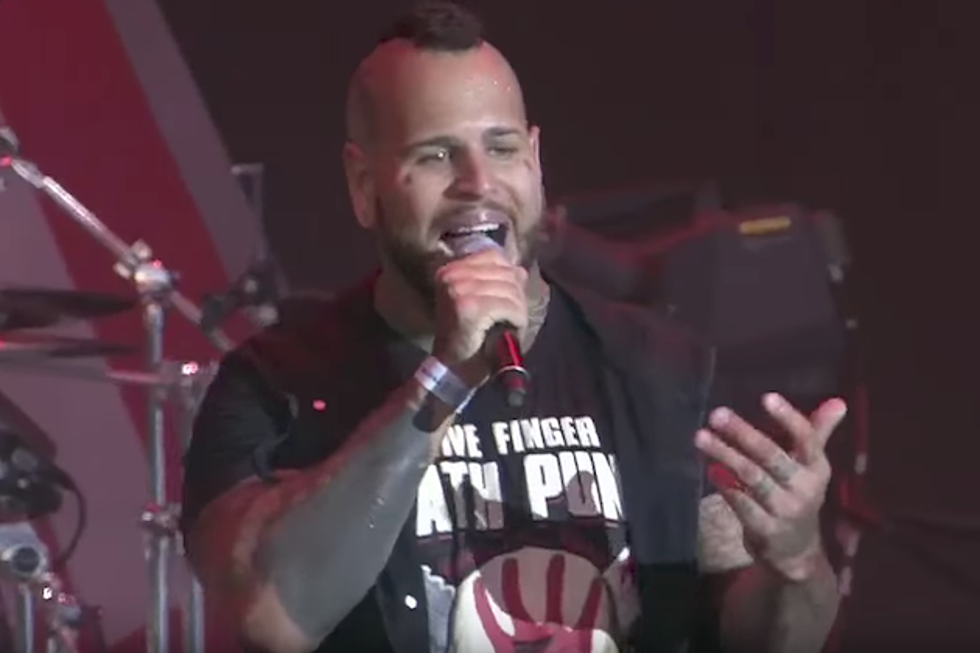 Watch Pro-Shot Footage of Tommy Vext Filling In for Ivan Moody in Fiver Finger Death Punch at Graspop Festival
YouTube: metfan4l
There's been some turmoil in the Five Finger Death Punch camp over the last year. The band's new album is on hold as they're currently engaged in a lawsuit with their label, Prospect Park, and they've had to contend with troubles up front as Ivan Moody continues to struggle with alcohol abuse. While the frontman is focusing on his recovery, Tommy Vext has been tapped as his fill-in and pro-shot footage of two songs has surfaced from the band's Graspop festival performance in Belgium on Saturday (June 17).
Five Finger hit the stage for an hour and 15 minute performance, which included fan favorites like "The Bleeding" (off 2007's The Way of the Fist) and "Wash it All Away" (off 2015's Got Your Six). Vext kept the energy onstage and in the crowd high, imploring the festival attendees to raise their hands and cell phones, demonstrating command over the audience during "The Bleeding." The singer stalked the stage from wing to wing, remaining engaged while finding his own voice and style within the group without straying from Moody's vocal inflections.
Last week (June 12), the band performed in the Netherlands where Moody declared it would be his last show with Five Finger Death Punch, coupling it with a throat-slicing motion. Conflict played out across the night (which opened with Vext singing a pair of songs before Moody took the stage), as the band's members argued between songs, only managing to play a 40 minute set. They've since rescheduled the gig, offering ticket holders free entry into the makeup show.
Top 25 Hard Rock + Metal Replacement Singers
10 Epic Fill-In Performances