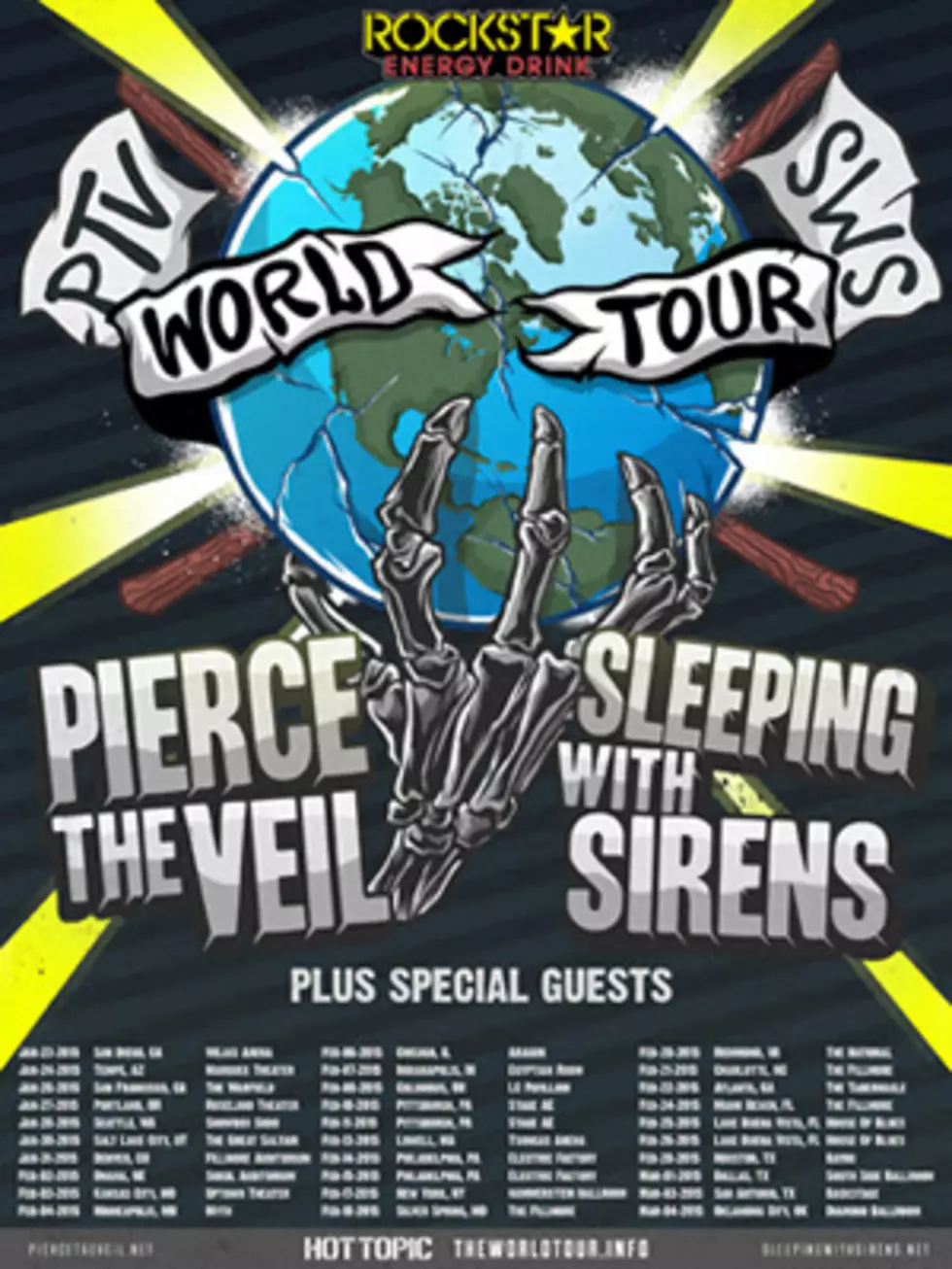 Pierce The Veil + Sleeping With Sirens Reveal Second and Third Legs of 'The World Tour'
Courtesy of Pierce the Veil and Sleeping With Sirens
Pierce the Veil have added 48 shows to their co-headlining tour with Sleeping with Sirens. The massive outing, dubbed 'The World Tour,' launches Nov. 5 in Fresno, Calif. and will see the bands on the road through April, minus a three-week break in December and early January.
The newly announced leg two of the outing kicks off in the PTV's hometown of San Diego on Jan. 23 and wraps March 4 in Oklahoma City. Leg three launches in Antwerp, Belguim on March 20 and wraps with a two-night stand at the Forum in London, England on April 10 and 11.
'The World Tour' will see the two bands alternating the closing spot and the outing marks the first time Pierce The Veil and Sleeping with Sirens have shared the stage since 2012's 'Collide with the Sky' tour. The tour will feature multi-night stands in Pittsburgh, Philadelphia, Orlando and London.
PTV have been recording their new album in New York with producer Dan Korneff, who also helmed their 2012 effort 'Collide with the Sky.' Basic tracks are completed and the band's singer, Vic Fuentes, is currently finishing up lyrics and vocals. The effort is expected to arrive in early 2015. Fuentes said fans can look forward to hearing some new songs on the tour, while bassist Jaime Precaido gave a little insight into the album saying, "We don't just play metal or just play punk, or any one kind of music, but we cross and mix different kinds of music to make our own sound. The new music reflects that. It has a little bit of everything, some of it's heavy, some of it's fast, it definitely has the Pierce The Veil stamp, but it's all brand new."
Meanwhile, Sleeping With Sirens are prepping their new album. Last month the band shot a video for a new single, which is expected to be released this fall.  Their new album is currently being mixed, but there is no time frame for a release.
VIP Packages and limited pre-sale tickets are available now here. Tickets go on sale on Oct. 4 at 10AM local time. For the first leg of 'The World Tour' dates click here.
Pierce The Veil + Sleeping with Sirens 'The World Tour' Dates:
1/23 -- San Diego, Calif. -- Viejas Arena
1/24 – Phoenix, Ariz. -- Marquee Theatre
1/26 – San Francisco, Calif. -- The Warfield
1/27 – Portland, Ore. -- Roseland Ballroom
1/28 – Seattle, Wash. -- Showbox Sodo
1/30 – Salt Lake City, Utah -- Salt Air
1/31 – Denver, Colo. -- The Fillmore
2/2 – Omaha, Neb. -- Sokol Auditorium
2/3 – Kansas City, Mo. -- Uptown Theatre
2/4 – Minneapolis, Minn. – Myth
2/6 – Chicago, Ill. -- Aragon Ballroom
2/7 – Indianapolis, Ind. -- Egyptian Room
2/8 – Columbus, Ohio -- LC Pavillion
2/10 – Pittsburgh, Penn. -- Stage AE
2/11 – Pittsburgh, Penn. -- Stage AE
2/13 – Lowell, Mass. -- Tsongas Arena
2/14 – Philadelphia, Penn. -- Electric Factory
2/15 -- Philadelphia, Penn. -- Electric Factory
2/17 – New York, N.Y, -- Hammerstein Ballroom
2/18 – Silver Springs, Md. -- Fillmore
2/20 – Richmond, Va. -- The National
2/21 – Charlotte, N.C. -- Fillmore
2/22  -- Atlanta, Ga. -- Tabernacle
2/24 – Miami, Fla. -- Fillmore
2/25 – Orlando, Fla. -- House of Blues
2/26 – Orlando, Fla. -- House of Blues
2/28 – Houston, Texas – Bayou
3/1 – Dallas, Texas -- South Side Ballroom
3/3 – San Antonio, Texas -- Backstage,
3/4 – Oklahoma City, Okla. -- Diamond Ballroom
3/20 -- Antwerp, Belgium -- Mar Trix
3/21 -- Amsterdam, The Netherlands -- Melkweg
3/22 -- Berlin, Germany -- C Club
3/24 -- Stockholm, Sweden -- Arenan
3/25 -- Gothenburg, Sweden -- Tradgam
3/26 -- Hamburg, Germany -- Gruenspan
3/27 -- Cologne, Germany -- Essigfabrik
3/29 -- Norwich, England -- Nick Rayns, LCR UEA
3/30 -- Portsmouth, England -- Guildhall
3/31 -- Bristol, England -- O2 Academy
4/2 -- Manchester, England -- Academy 1
4/3 --  Leeds, England -- O2 Academy
4/4 -- Glasgow, Scotland -- O2 Academy
4/6 -- Newcastle, England -- O2 Academy
4/7 -- Nottingham, England -- Rock City
4/8 -- Birmingham, England -- O2 Academy 1
4/10 -- London, England -- Forum
4/11 -- London, England -- Forum