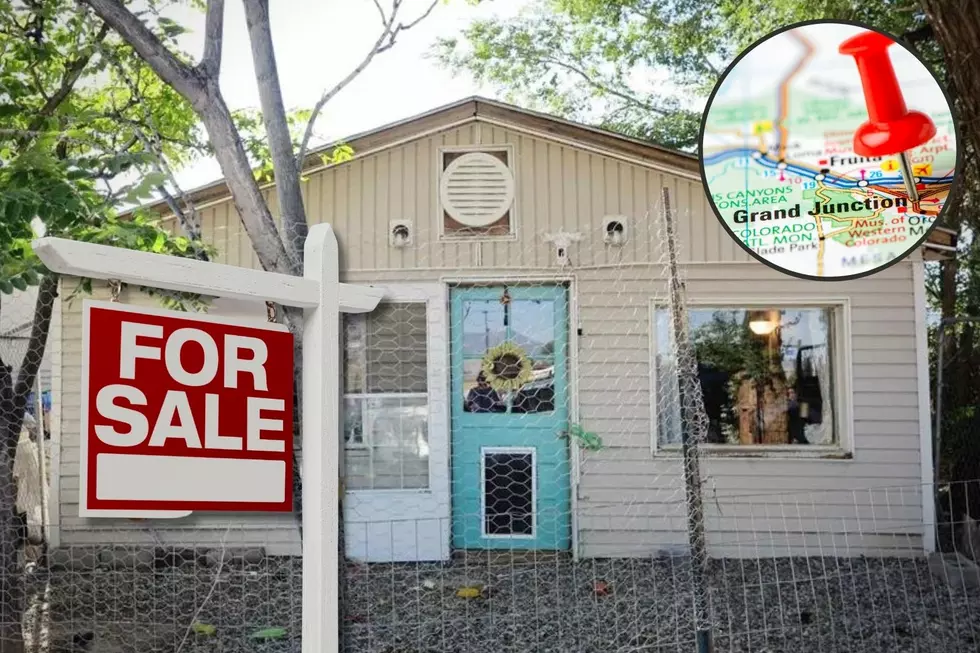 Most Affordable House On The Market Right Now In Grand Junction Colorado
Jennifer Cirka with Greyhound Real Estate / Canva
Are you in desperate need of affordable housing in Grand Junction, Colorado? The market is weird, and it's only getting weirder. Right here, right now, this is the least expensive house on the market in Grand Junction.
Conduct a search, and you'll quickly discover there are only three houses on the market in Grand Junction under $200,000. All three of those are pending. This one sits right at $200K, and is available right now.
The Least Expensive House In Grand Junction, Colorado as of February 3, 2023
You'll find this home at 481 Sparn Street in Grand Junction. If that doesn't ring a bell, it's just off of 29 Road, not far from North Avenue.
How Much For How Much?
The house measures 819 square feet on a .31 acre lot. At the asking price of $200,000, that totals $244 per square foot of living space. Crunch the numbers, and you'll find owning the home would run you roughly $1,253 per month.
Specifications On The House
The listing at Realtor.com describes the house as:
1 bed
1 bath
walk-in shower
819 square feet
built in 1947
ceiling fans
gas range oven
laundry room measuring 11'8 x10'5
RV parking
detached garage
chain link, full, and privacy fencing
Benefits Of Buying a Smaller Home
The website Bet The Budget offers 10 reasons to consider a smaller, more affordable home:
Easier to save a down payment
Smaller mortgage payment
Cheaper insurance and property taxes
Easier to maintain
Better energy efficiency
Less costly to upgrade
Less expensive to furnish
More time freedom (we'll come back to this one)
Simpler lifestyle
Easier to sell
Being House Poor Aint Fun
All real estate is expensive. They aren't making any more land, and those who own property know it.
If you've ever lived under an overwhelming mortgage, you know it's like trying to pull a freight train up a 30-mile-long hill. It sucks the life out of you and ultimately consumes every dime and ounce of energy you can muster.
Don't get so immersed in trying to create a magnificent home that you find yourself without the time or energy to enjoy it. How about a comfortable, affordable home you can afford?
Why Do I Care?
Just yesterday (February 2, 2023) I published a post about the most expensive house for sale right now in Grand Junction, Colorado. That's fine. At the end of the day, though, I'm far more interested in affordable housing. Buying a house is one of the most, if not the most stressful things you'll ever do. Given the wonky market, buying is an impossibility for far too many people. With that, I look for opportunities to share the more affordable properties in town.
Waylon's Disclaimer
I am not a realtor and am in no way associated with this property's agent, the agent's company, or the owners of the home. I have no interest in this property, and will in no way benefit from its sale. Put simply, I could care less. From time to time I search available properties, keeping an eye out for good investments. When something catches my attention, it is my assumption it may be of interest to you as well.
The Least Expensive House For Sale Right Now In Grand Junction Colorado Feb. 3, 2023
If you're in the market for a new home, you might want to give this one a look. At this moment, Friday morning, February 3, 2023, it's the least expensive house on the market in Grand Junction. There are less expensive properties such as trailers and townhouses, but this is the most inexpensive freestanding property at this time.
After a lengthy discussion with both a real estate agent and a mortgage banker, it's hard to determine what the market is going to do. If you're currently searching, this may be a good place to start.
Tour The Most Expensive House For Sale Right Now in Grand Junction Colorado
Are you in the market for a new home? Well, after a long run, there's a new kid on the block. A house that was the most expensive on the market in Grand Junction, Colorado, finally has a contract. With that, there's a new top dog. Take a quick tour of the most expensive house for sale in Grand Junction as of February 1, 2023.
Famous Grand Junction Colorado Stone House On Orchard Mesa For Sale
You've probably driven past this house thousands of times. Are you familiar with the well-known stone house just off the corner of 27 Road and Highway 50 on Orchard Mesa. Well, it's for sale for just under one million dollars. Take a quick tour.