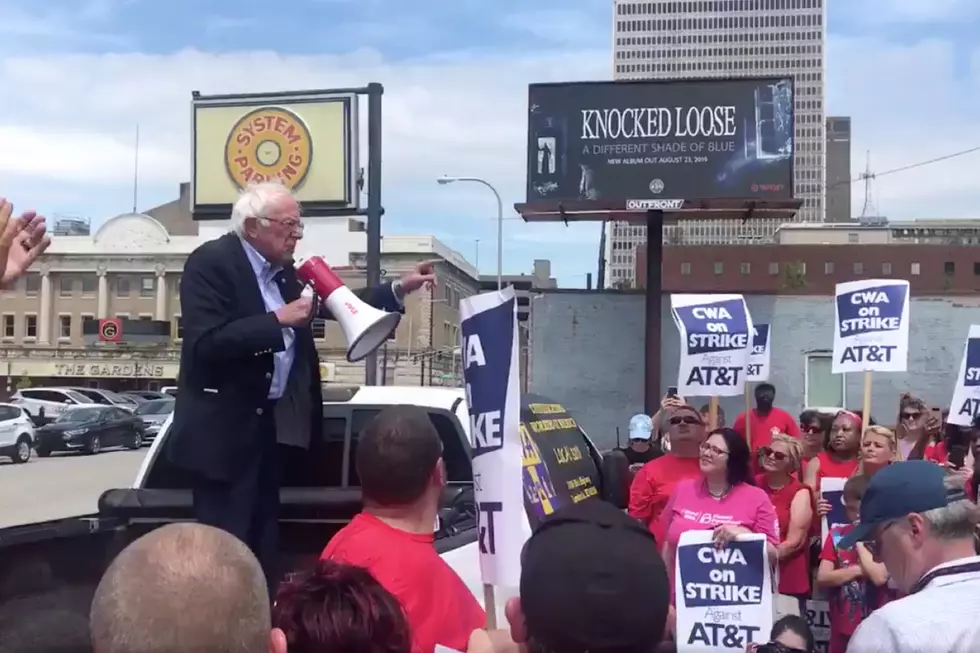 Knocked Loose Billboard Makes Unintended Background for Bernie Sanders Rally
Twitter: Joe Sonka
2020 presidential candidate Bernie Sanders may not have wrote a song about getting better. But for Knocked Loose fans, the feeling they'll remember when seeing the hardcore band's billboard as an unwitting backdrop for the senator's recent rally in Louisville, Kentucky, is surely one of uncanny astonishment.
Conversely, when a Twitter user shared the short clip from Sunday (Aug. 25) showing Sanders with striking AT&T workers, they probably weren't paying much attention to the prominent ad for Knocked Loose's new album A Different Shade of Blue in the background. Watch the video down toward the bottom of this post.
"[The] American people are tired of a Congress that ignores workers and gives huge tax breaks to billionaires," Sanders is heard saying in the clip retweeted by the Kentucky-based group. "They're tired of a Congress that ignores the healthcare crisis in this country or tolerates the greed of the one percent."
The language should be familiar to those accustomed to Sanders' stump speeches. As reported by The Hill, the Louisville event Sanders joined was one of several across nine states involving 20,000 workers who were protesting the labor practices of AT&T, the world's largest telecommunications company.
As another tweeter pointed out, "I guess Knocked Loose is getting their money's worth out of that billboard now."
25 Awesome Celebrity Metalheads