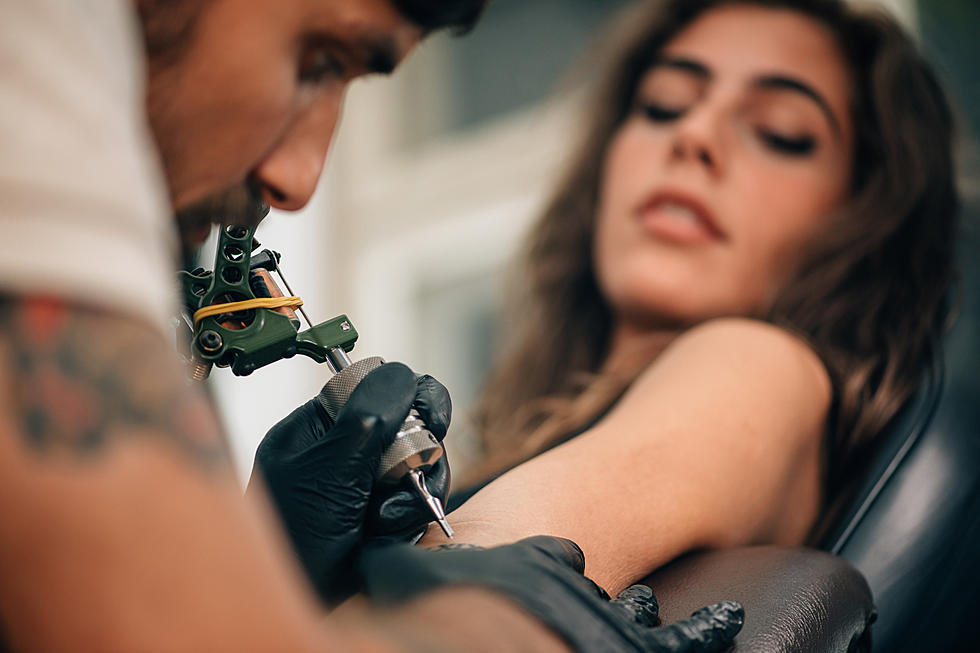 Which Rock + Metal Musicians Inspired the Most Tattoos?
Getty Images
What better way to display your love and appreciation for music that getting some fresh ink to salute the band, song or lyrics that have caught your ear? There's little doubt that tattoo culture is often tied to music, and a new survey has sought to see which acts have inspired the most tattoos.
Ticketsource have done their research, scanning tattoo-related searches and Instagram posts with fans sharing their artist-inspired ink to determine the acts that have inspired the most tattoos.
Which Rock + Metal Artist Has Inspired the Most Tattoos?
According to the Ticketsource research, the rock and metal artist that has inspired the most tattoos is Pink Floyd. The legendary band obviously have some of the most iconic album artwork of all-time, so the fact that they are high up on the list should come as no surprise. In fact, Ticketsource notes 30,397 Instagram posts that have shown off Pink Floyd tattoo work.
But surprisingly, that is not the top artist overall. Modern day boy band BTS tops the list with 37,157 tattoo-related posts. That said, rock and metal dominates the Top 10, with Slipknot coming in third (22,015 Instagram posts), Nirvana fifth (19,772 Instagram posts), Iron Maiden sixth (18,242 Instagram posts), David Bowie ninth (16,075 Instagram posts) and Metallica tenth (14,584 Instagram posts). The remaining acts in the Top 10 that aren't rock and metal are Tupac Shakur placing fourth (21,399 Instagram posts), Rihanna seventh (18,078 Instagram posts) and Wu-Tang Clan eighth (17,000 Instagram posts).
Acts such as Led Zeppelin (No. 14, 11,266 Instagram Posts), Rammstein (No. 15, 11,041 Instagram Posts), Marilyn Manson (No. 16, 10,832 Instagram Posts) and Blink-182 (No. 17, 9,835 Instagram Posts) also ranked high up on the list.
That said, there is definitely a growing interest in tattoos for artists outside of the rock and metal world, with Ticketsource also digging deep to investigate the most artist-related tattoo searches. Harry Styles tops that list with 4,835,500 searches, while Justin Bieber (4,541,500) and Ariana Grande (3,748,500) are close behind. Not a single rock or metal artist even enters the Top 10 for most searched tattoos.
Which Groups, Male and Female Solo Artists Have Inspired the Most Tattoos?
Ticketsource have broken things down even further, naming the Top 10 most-tattooed groups, male solo artists and female solo artists.
As previously mentioned, BTS currently tops the group list, while Pink Floyd finished second. But what about the rest of the Top 10. That would be (in order): Slipknot, Nirvana, Iron Maiden, Wu-Tang Clan, Metallica, Led Zeppelin, Rammstein and Blink-182.
For male artists, the late rapper Tupac Shakur tops the list, followed by the iconic chameleonic late singer David Bowie. The rest of the Top 10 (in order) are: Bob Marley, Marilyn Manson, Justin Bieber, Eminem, Michael Jackson, Johnny Cash, Freddie Mercury and Harry Styles.
And for the female artists, Rihanna tops the list, followed by Lana Del Rey, Amy Winehouse, Lady Gaga, Halsey, Billie Eilish, Madonna, Ariana Grande, Grimes and Taylor Swift.
How Were the Totals Gathered?
According to Ticketsource, they wanted to reveal the most popular musicians that are inspiring the most tattoos. To do this they created a list of more than 1,000 bands and artists using sources such as Rolling Stone, Virgin Radio, The Guardian, uDiscoverMusic, and Top40Weekly.
They then used Google Keyword Planner to find the number of tattoo-related searches for each artist using the artist's name and "tattoo" as a search term. They took global search data covering the period from March 2019 to February 2023, calculating the total number of searches for each search term.
They used the artists with the most tattoo-related searches as this would indicate a level of interest in the artists' tattoos as well as tattoo inspiration for their fans.
They then took the top 250 artists and created Instagram-friendly hashtags using the artist's name followed by the word "tattoo". They then collected the number of Instagram posts for each artist's hashtag to find the number of tattoos each one had inspired. The results were presented as an overall ranking, as well as being split into subsections for groups, male solo artists and female solo artists.
Any artists with 0 results for either search data or Instagram posts were removed and replaced with the artist with the next highest search volume, while artists with names that gave false positive results were also excluded.
40 Worst Rock Tattoos of All Time