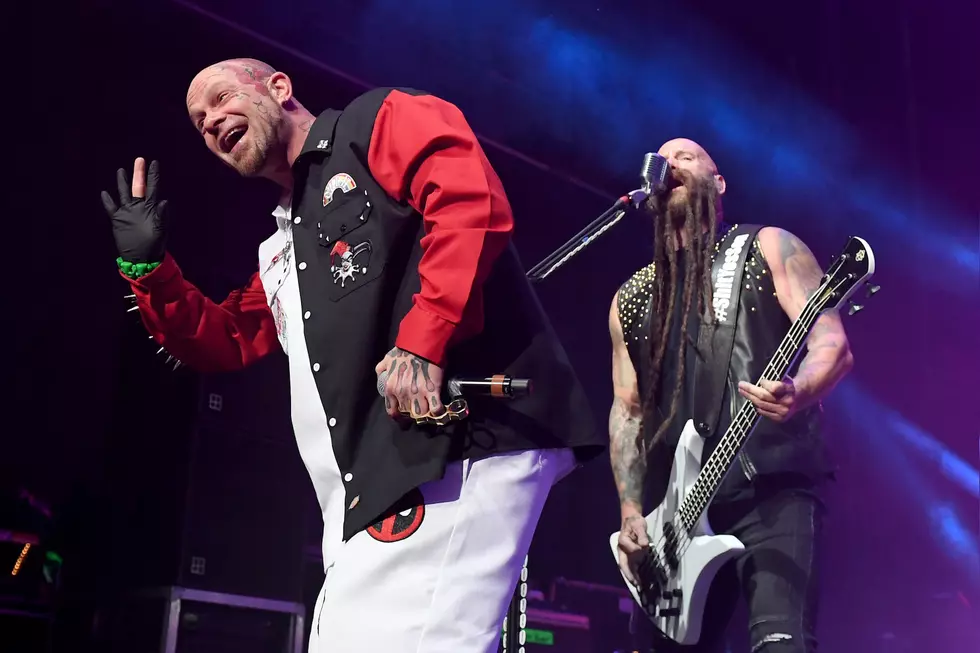 These Five Finger Death Punch Members Are 'Leaning on Each Other' in Sobriety
Ethan Miller, Getty Images
Two members of Five Finger Death Punch — bassist Chris Kael and lead singer Ivan Moody — are each celebrating nearly two years of sobriety from alcohol. According to Kael, now 22 months sober, the pair of musicians have been offering each other support on their shared road to recovery.
That's how he put it to Louisville, Kentucky's Talk Radio 1080 (WKJK-AM), during a recent interview. Describing the duo's similar paths in sobriety, as well as the temptation to fall back into his old ways, the Five Finger Death Punch bassist offered hope to those experiencing similar circumstances.
"Our lead singer, Ivan, he's 21 months sober, right behind me," Kael explained last week (Dec. 6), as transcribed by Blabbermouth. "Once I got sober, he was trying to go through it as well. We've really been leaning on each other a whole lot. If we can do it, in rock and roll, you guys can do it. Trust me. It's been an incredible turnaround in life. Twenty-two months ago, knowing how I felt back then versus how I feel now — it's amazing. I cannot go back."
The bassist continued, "I was doing this whole addict thing, where I had nine months [sober]. I was, like, 'Okay, at one year, I'm gonna re-evaluate. Maybe I'll have an Old Fashioned [Pale Ale]' — that was my thing; Old Fashioned — 'I'll have that.' But nine months hit, and that's when the first milestone was. I was like, 'If I feel this good at nine months, why would I introduce that back into me at all?'"
Of the urge to fall off the wagon, Kael added last week that going back to the occasional drink "works for some people; it wasn't working for me. And now I'm spreading the word. I try to be the positive guy that everybody knew me to be originally, and I fell off the earth with addiction. And now I'm back."
See Five Finger Death Punch in the 66 Best Rock Albums of the 2010s