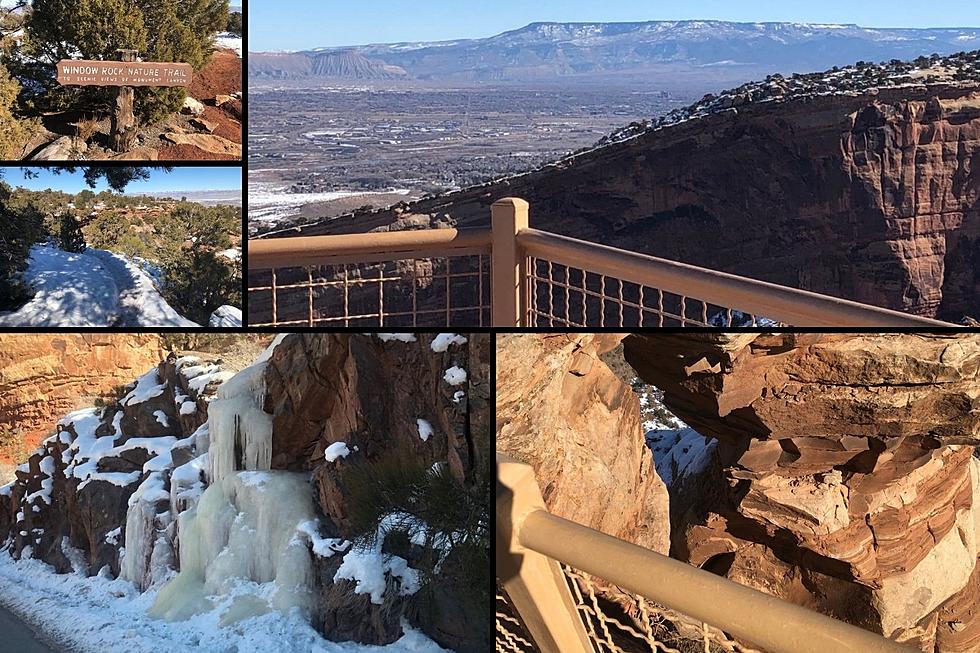 Enjoy 40 Frozen Winter Photos From Grand Junction Colorado's Window Rock Trail
TSM GJ - W Adams
Western Colorado weather did not disappoint over the weekend offering enough sunshine to create as good a day as any for a winter hike near Grand Junction.
I decided to take a chance on heading into the Monument to get a few photos of the snow-covered canyons since I have not yet had a chance to visit this winter.
Window Rock Trail in the Colorado National Monument
This short trail is located on the Fruita, Colorado side of the monument located in the loop that leads past the Saddlehorn campground and amphitheater. This area offers a few great overlooks that sometimes get skipped as it's easy to miss this loop on the way in or out of the Monument.
The Winter View at the Colorado National Monument
Seeing the cliffs covered in snow and the frozen waterfalls formed off the snowmelt were sides of the Monument I had not seen before. Just watch your step on the trails and remember that there are usually a few different options to reach a specific area if you run into snow and ice during the winter months. You can check with the visitor's center if you have a question about accessibility. Thankfully, there are not many of them left.
Share Your Frozen Photos of the Colorado National Monument
Do you have a few great wintry photos that you have taken from the Colorado National Monument during the winter months? If you took them with your own camera or your phone we would love to share them. Grab our station app and easily send photos, video, or text and audio messages on the fly from anywhere.
Enjoy 40 Frozen Winter Photos From Colorado's Window Rock Trail
Enjoy these winter views of Window Rock Trail inside the Colorado National Monument.
5 Fun Trails You Can Do in One Day at the Colorado National Monument
See some of the best features inside the National Monument by selecting these short to moderate trails that can all be done in one day or separately.
Look: Weekend Climbers Ascend Colorado's Independence Monument
While walking the trails inside the Colorado National Monument we spotted 3 climbers making their way up Independence Monument.
See the Amazing Ice Caves and Frozen Waterfalls at Rifle Mountain Park
Right now is the best time all year to visit the larger-than-life ice walls inside the caves at Rifle Mountain Park.