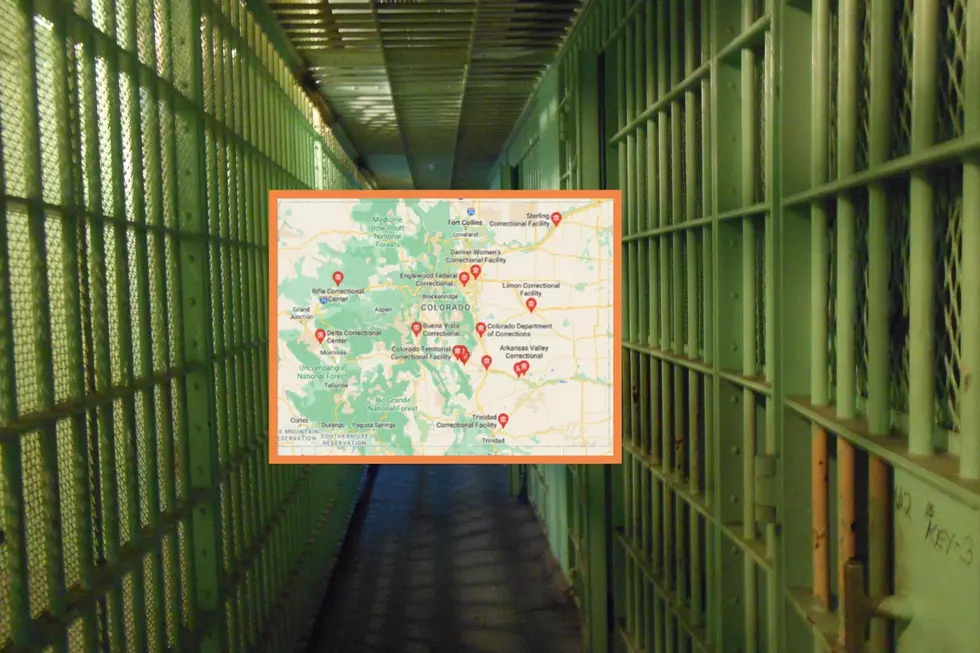 How Many Inmates Are There In Colorado Prisons?
Canva/Google Maps
If people don't quit breaking the law, Colorado may run out of room to house convicted criminals.
Most Colorado state prisons are operating very near their capacity level. According to a report from the Colorado Department of Corrections, at the end of January, there were only 867 vacant beds in Colorado's state prisons.
How Many People Are In Colorado Prisons?
The Colorado Department of Corrections has 19 state-run prisons and two private facilities and they are all nearly full. Not counting county jails, Colorado's state prison capacity was 16,332, and at the end of January with only 1,203 vacancies. That means the state's prisons are operating at 93% of total capacity. Additionally, more than 3,000 inmates are housed in four federal prisons in Colorado and two federal prison camps. The total prison population is over 20,000 inmates.
Which Colorado Prison Has the Most Prisoners?
Colorado's largest prison is the Sterling Correctional Facility in the northeast corner of the state.  The facility currently houses 2,053 prisoners with only 19 vacant beds available.
Who Are the People in Colorado State Prisons?
More than 14,000 Colorado prisoners are men and over 1,100 women are currently incarcerated.
By race, 41% of Colorado prisoners are Caucasian, 30% are Hispanic, 17% are African American, 3% are Native American, and 1% are Asian.
By age, 34% of prisoners are between the ages of 30 and 39. A total of 24% are between the ages of 40 and 49, and 20% are between the ages of 20 and 29.
While it seems like Colorado has a lot of prisons, the number is small compared to many states. Texas has the most prisons in the country with 313 facilities housing more than 130,000 inmates. Even Wyoming, with 25 prisons, has more facilities than Colorado. And here is one final interesting stat. About 75% of states have more prisons than colleges.
Get Up Close with 19 Colorado Prisons
Check out what 19 of Colorado's prisons really look like.
See Inside Supermax + Other Notorious Colorado Prisons and Jails
From Supermax to historic jails, take a stroll through some places in Colorado in which you'd never want to end up staying the night.