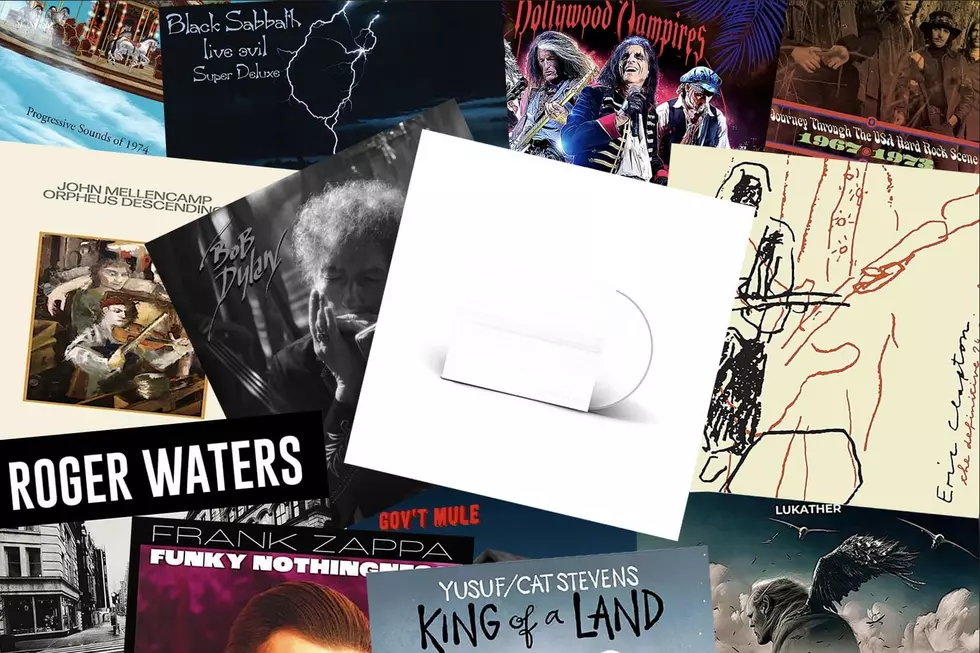 UCR
A surprise lockdown-recorded LP with a huge tour got 2023 off to a very fast start.
72 Seasons marked Metallica's first album since 2016's Hardwired ... to Self-Destruct and explored how childhood trauma impacts the rest of our lives. Dates in support of the project featured Pantera, Mammoth WVH and Greta Van Fleet.
Iggy Pop returned with Every Loser, which features Red Hot Chili Peppers' Chad Smith and Guns N' Roses' Duff McKagan. Sessions were overseen by Andrew Watt, who recently produced and co-wrote Ozzy Osbourne's Patient Number 9 then helmed the Rolling Stones' long-awaited studio comeback.
Steve Vai's "straight-ahead rock album" titled Vai / Gash featured shelved recordings with singer Johnny "Gash" Sombretto from 1991. The Smashing Pumpkins' ATUM, a "rock opera in three acts," was billed as the sequel to both 1995's Mellon Collie and the Infinite Sadness and 2000's Machina/Machines of God.
The latest installment in Bob Dylan's Bootleg Series was the five-CD or 10-LP Fragments – Time Out of Mind Sessions set, which focused on recordings from 1996-97. Highlights included two discs of outtakes and alternate takes, plus a disc of live performances.
More information on these and other pending rock albums can be found below. Remember to follow this continuously updated list of new music releases for details on records issued throughout the year.
Jan. 6
Iggy Pop, Every Loser
Olivia Newton-John, Greatest Hits Volume 2: Deluxe Edition
Jan. 13
Dream Theater, Lost Not Forgotten Archives: Live at Madison Square Garden 2010
Rupert Hine, Surface Tension: The Studio Works 1981-1983 (3CD clamshell box)
Jan. 20
Black Star Riders [Thin Lizzy], Wrong Side of Paradise
John Cale [Velvet Underground], Mercy
Rolling Stones, In Mono (16LP box)
Various Artists, 1981: All Out Attack! (2CD set, with the Ramones, the Damned, Killing Joke, others)
Various artists, Gary Crowley's Indie '90s Playback: Classics, Curveballs and Bangers (3CD set, with Paul Weller, Jesus Jones, Big Audio Dynamite, Luscious Jackson, others)
Jan. 27
Bob Dylan, Fragments – Time Out of Mind Sessions (1996-1997): The Bootleg Series Vol. 17
Carly Simon, Live at Grand Central
Dokken, The Elektra Albums 1983-1987 (4CD box)
Elvis Presley, Elvis On Tour (6CD/Blu-ray box physical release)
Green Day, Nimrod: 25th Anniversary Edition
Marianne Faithfull, Kissin Time: Expanded Edition
Prog Collective, Seeking Peace (Steve Morse, Geoff Downes, Steve Stevens, Graham Bonnet, Patrick Moraz, Jordan Rudess, Billy Sherwood, others)
Steppenwolf, The Epic Years 1974-1976 (3CD set)
Steve Vai, Vai/Gash
Various Artists, What a Groovy Day: The British Sunshine Pop Sound 1967-1972 (3CD set with the Zombies, Herman's Hermits, the Hollies, Cliff Richard, others)
Feb. 3
Carole Bayer Sager, Sometimes Late at Night: Expanded Edition
Poco, The Sony/BMG A's and B's (2CD set)
Various artists, The American Bandstand US Top 100 5th August 1957 (4CD set)
The Winery Dogs, III (Richie Kotzen, Mike Portnoy and Billy Sheehan)
"Weird Al" Yankovic, Weird: The Al Yankovic Story: Original Motion Picture Soundtrack
Feb. 10
The Rolling Stones, GRRR Live!
Various artists, Steven Wilson Presents: Intrigue – Progressive Sounds in UK Alternative Music 1979-89 (4CD box with the Cure, Tears For Fears, Kate Bush, XTC, others)
Feb. 17
Danzig, Circle of Snakes (vinyl and cassette reissue)
Marshall Crenshaw, Marshall Crenshaw: 40th Anniversary Expanded Edition
Motley Crue, Crucial Crue: The Studio Albums 1981-1989 (5CD box)
Robert Palmer, The Island Records Years (9CD box)
Various artists, Musik Music Musique 3.0: 1982 Synth Pop on the Air (3CD clamshell set with Tears for Fears, New Order, OMD, Talk Talk, Human League, others)
Various artists, Teenage Glampage: Can the Glam 2 (4CD box with Mott the Hoople, T-Rex, Bay City Rollers, Suzy Quatro, others)
Feb. 24
Adam Lambert [Queen], High Drama
Alan Parsons Project, The Turn of a Friendly Card (3CD/Blu-ray set)
Andy Fairweather Low [Roger Waters/Eric Clapton], Flang Dang
Bernie Marsden [Whitesnake], Big Boy Blues and Green: 1995-2005 (4CD clamshell box)
The Church, The Hypnogogue
Del Shannon, Stranger in Town: A Del Shannon Compendium (12CD box)
Ken Hensley [Uriah Heep], Past and Present, Songs in Time: 1972-2021 (6CD clamshell box)
Motorhead, Bad Magic: Seriously Bad Magic
Steel Panther, On the Prowl (with Dweezil Zappa)
Trapeze [Glenn Hughes], Don't Stop the Music: Complete Recordings Vol. 1 (1970-92)
Various artists, Deviation Street: High Times on Ladbroke Grove 1967-75 (3CD clamshell set with Roxy Music, Motorhead, Tyrannosaurus Rex, Hawkwind, others)
March 3
Elvis Costello, The Songs of Bacharach & Costello
Frank Zappa, Zappa '80: Mudd Club/Munich (3CD set)
Genesis, BBC Broadcasts (5CD or 3LP set)
March 10
Blackmore's Night, Shadow of the Moon: 25th Anniversary Edition (CD/DVD set)
The Smile, Europe: Live Recordings 2022
Van Der Graaf Generator, The Bath Forum Concert (2CD/Blu-ray/DVD clamshell box)
Van Morrison, Moving On Skiffle
March 17
Ten Years After, A Space in Time (remastered reissue)
U2, Songs of Surrender
March 24
Elton John, Honky Chateau (expanded 50th anniversary edition)
Depeche Mode, Memento Mori
Peter Schilling, Coming Home: 40 Years of Major Tom (4CD box)
Pink Floyd, Dark Side of the Moon (expanded 50th anniversary edition)
Various artists, Dance Craze: The Best of British Ska … Live!: Deluxe Edition (The Beat, Madness, the Specials, others)
March 31
Foghat, Road Fever: The Complete Bearsville Recordings 1972-1975 (6CD box)
Last in Line [Dio], Jericho
Ralph Molina, Billy Talbot, Nils Lofgren and Neil Young [Crazy Horse], All Roads Lead Home
The Who, With Orchestra Live at Wembley
The Zombies, Different Game
April 7
Andy Fairweather Low [Roger Waters/Eric Clapton], Flang Dang (vinyl release)
Allan Clarke [Hollies], I'll Never Forget
Kiss, Off the Soundboard: Poughkeepsie, New York, 1984
Mamas and the Papas, The Mamas and the Papas (remastered)
April 14
Frankie Valli and the Four Seasons, Working Our Way Back to You: The Ultimate Collection (45CD box)
Joe Bonamassa, Tales of Time
L.A. Guns, Black Diamonds
Metallica, 72 Seasons
Natalie Merchant, Keep Your Courage
Neil Young, Somewhere Under the Rainbow [Santa Monica Flyers], High Flyin' [the Ducks]
The 13th Floor Elevators, 13 of the Best of the 13th Floor Elevators (vinyl reissue)
April 21
Blood Sweat and Tears, What the Hell Happened to Blood Sweat and Tears?: Original Soundtrack
Ian Hunter, Defiance Part 1 (Joe Elliott, Billy Gibbons, Duff McKagan, Todd Rundgren, Slash, Jeff Beck, Taylor Hawkins, others)
Jethro Tull, RokFlote
Revolution Saints, Eagle Flight
April 22: Record Store Day
RSD EXCLUSIVE
Billy Joel, Live at the Great American Music Hall: 1975 (2LP)
Black Keys, Live at Beachland Tavern March 31, 2002 (LP)
Brian Eno, Forever Voiceless (LP)
David Byrne, The Complete Score From the Catherine Wheel (2LP)
Canned Heat, Vintage (LP)
Captain Beefheart and the Magic Band, I'm Going To Do What I Wanna Do: Live at My Father's Place 1978 (2LP)
Eric Carr, Rockology (2LP)
Carole King, The Legendary Demos (LP)
The Cure, Show: 2023 Remaster (2LP)
Dio, Live in Fresno 1983 (2LP)
The Doors, "Love Her Madly, "Hello, I Love Yo, "Break On Through (To the Other Side)" (3-inch vinyl)
Duran Duran, Carnival Rio! (LP)
Elvis Presley, Burning Love: The RCA Rehearsals (2LP)
Jerry Harrison, The Red and The Black (2LP)
Jerry Lee Lewis, Live at the Palomino Club (2LP)
Joe Strummer, Streetcore: 20th Anniversary (LP)
Keith Richards, Vintage Vinos (2LP)
Motley Crue, "Helter Skelter" (12-inch picture disc)
Motorhead, Lost Tapes, Vol. 4: Live in Heilbronn 1984 (2LP)
Pearl Jam, Give Way (2LP)
Ramones, Pleasant Dreams: The New York Mixes (LP)
Ringo Starr, Stop and Smell the Roses (2LP)
Rolling Stones, Beggars Banquet (LP)
Scott Weiland, 12 Bar Blues (2LP)
Soul Asylum, MTV Unplugged (2LP)
Stevie Nicks, Bella Donna Live 1981 (2LP)
Ted Nugent, Nuge Vault Vol. 1 (LP)
Todd Rundgren, A Wizard / A True Star (LP)
UFO, Will The Last Man Standing (Turn Out the Light) (2LP)
Van Halen, Live: Right Here, Right Now (4LP)
Violent Femmes, Violent Femmes: 40th Anniversary (LP)
Wilco, Crosseyed Strangers: An Alternate Yankee Hotel Foxtrot (LP)
Yes, Live at Knoxville Civic Auditorium (4LP)
RSD FIRST
Allman Brothers Band, Syria Mosque: Pittsburgh, PA 1-17-71 (2LP)
Eddie Money, The Covers (LP)
Elton John, Don't Shoot Me, I'm Only the Piano Player (2LP)
Fleetwood Mac, Albatross/Jigsaw Puzzle (12-inch vinyl)
Hawkwind, The Iron Dream: Live 1977 (LP)
Jerry Garcia Band, How Sweet It Is (2LP)
Joan Jett and the Blackhearts, Up Your Alley (LP)
John Lennon, Gimme Some Truth (10-inch vinyl box)
Mr. Big, Mr. Big (LP)
Paul McCartney and Wings, Red Rose Speedway (LP)
Pearl Jam, Give Way (CD)
Queensryche, Operation Mindcrime II (2LP)
Strawberry Alarm Clock, Incense and Peppermints (LP)
T. Rex, Rockin' & Rollin' (LP)
U2, "Two Hearts Beat as One/Sunday Bloody Sunday: War & Surrender Mixes"
Warren Zevon, The Wind (LP)
RSD LIMITED RUN/REGIONAL
Eric Carr, Rockology (CD)
Emerson Lake and Palmer, Brain Salad Surgery (LP)
Ringo Starr, Stop and Smell the Roses (CD)
April 28
Glen Matlock [Sex Pistols], Consequences Coming
King's X, In the New Age: The Atlantic Recordings 1988-1995 (6CD box)
Rickie Lee Jones, Pieces of Treasure
Stephen Stills, Live at Berkeley 1971
May 5
Winger, Seven
Smashing Pumpkins, ATUM
May 12
Bruce Cockburn, O Sun O Moon
Detective [Michael Des Barres], Detective
Rick Springfield, Springfield (deluxe-edition reissue)
Scott Weiland, 12 Bar Blues (digital-deluxe reissue)
May 19
Dave Matthews Band, Walk Around the Moon
Def Leppard, Drastic Symphonies
Ghost, Phantomime EP
Graham Nash, Now
Neal Schon, Journey Through Time
Paul Simon, Seven Psalms
Various artists, Gary Crowley's Punk & New Wave Vol. 2 (4CD box with the Clash, Ramones, Devo, the Cure, the Jam, Psychedelic Furs, Generation X, XTC and others)
Various artists, We're an American Band: A Journey through the USA Hard Rock Scene 1967-73 (3CD set with ZZ Top, Alice Cooper, Blue Oyster Cult, Steppenwolf, Vanilla Fudge, Blue Cheer and others.)
Yes, Mirror to the Sky
May 26
Alan Parsons Project, The Turn of a Friendly Card (Blu-ray edition)
Chris Squire, Fish Out of Water (vinyl edition)
Hanoi Rocks, The Days We Spent Underground 1981-84 (5CD clamshell box)
Joe Perry, Sweetzerland Manifesto MKII
Tesla, Full Throttle Live
June 2
The Alarm, Forwards
Black Sabbath, Live Evil: 40th Anniversary Super Deluxe Edition
Bob Dylan, Shadow Kingdom
Dr. John, The Montreux Years
Foo Fighters, But Here We
Hollywood Vampires, Live in Rio
John Mellencamp, Orpheus Descending
Jorma Kaukonen [Jefferson Airplane and Hot Tuna], Live at the Bottom Line
Noel Gallagher's High Flying Birds, Council Skies
Quicksilver Messenger Service, Live at the Fillmore: June 7, 1968 (2CD set)
Roger Waters, The Lockdown Sessions (CD/vinyl release)
June 9
Alice Cooper, Killer; School's Out (expanded 2CD/3LP reissues)
Extreme, Six
Jason Isbell and the 400 Unit, Weathervanes
Ratt, The Atlantic Years 1984-1990 (5CD box)
Spencer Davis Group, A's and B's 1964-1967 (2CD set)
June 16
Drive-By Truckers, The Complete Dirty South
Gov't Mule, Peace ... Like a River
Poco, Legacy (vinyl reissue)
Queens of the Stone Age, In Times New Roman
Steve Lukather, Bridges
Yusuf/Cat Stevens, King of a Land
June 23
Dream Syndicate, The Days of Wine and Roses (40th anniversary expanded edition)
Eric Clapton, The Definitive 24 Nights
Gary Moore [Thin Lizzy], The Sanctuary Years 1999-2004 (4CD box)
Little Feat, Sailin' Shoes; Dixie Chicken (expanded 2CD/3LP reissues)
Stewart Copeland, Police Deranged for Orchestra
Various artists, We're an American Band: A Journey Through the USA Hard Rock Scene 1967-1973 (3CD set with Alice Cooper, Steppenwolf, Vanilla Fudge, Iron Butterfly, others)
June 30
Baseball Project [R.E.M.], Grand Salami Time!
Big Country, Driving to Damascus (4CD deluxe box)
Frank Zappa, Funky Nothingness
Grateful Dead, Here Comes Sunshine 1973 (17CD box)
Hawkwind, Warrior on the Edge of Time (Steven Wilson vinyl remix)
Howard Jones, Sings What Is Love (12-inch blue-vinyl)
Huey Lewis and the News, Japanese Singles Collection: Greatest Hits (CD/DVD set)
Melvins, At the Stake: Atlantic Recordings 1993-96 (3CD clamshell set)
Various artists, Round and Round: Progressive Sounds of 1974 (4CD clamshell box with Jethro Tull, Traffic, Jack Bruce, Gong, Nektar, Hawkwind, Utopia, others.)
July 7
Chris Stamey [The dB's], The Great Escape
Flamin' Groovies, Rockin' the Roundhouse
Jackson Browne, Running On Empty (vinyl reissue)
Rory Gallagher, All Around Man: Live in London (2CD set)
Nita Strauss [Alice Cooper], The Call of the Void
July 14
Aerosmith, Aerosmith, Get Your Wings, Toys in the Attic, Rocks, Draw the Line, Live! Bootleg, Night in the Ruts, Rock in a Hard Place, Nine Lives, Just Push Play, Honkin' on Bobo and Music from Another Dimension (vinyl reissues)
Brian May and Eddie Van Halen, Star Fleet Project
Duane Betts, Wild and Precious Life (Derek Trucks, Marcus King, others)
Gordon Lightfoot, At Royal Albert Hall
Marshall Crenshaw, Field Day (40th anniversary expanded edition)
July 21
Atlanta Rhythm Section, Time Machine (2CD set)
Blur, The Ballad of Darren
Greta Van Fleet, Starcatcher
Nils Lofgren [E Street Band and Crazy Horse], Mountains
July 28
Andrew Gold, Greetings From Planet Love/The Fraternal Order of the All (compact-disc and double 10-inch splatter vinyl reissues)
Billy Idol, Billy Idol (expanded reissue)
Girlschool, WTFortyfive? (Duff McKagan, Phil Campbell, others)
Joni Mitchell, At Newport
Richard Wright [Pink Floyd], Wet Dream (Steven Wilson 2023 Remix)
Stevie Nicks, Complete Studio Albums & Rarities
Various artists, Where Were You: Independent Music From Leeds [1978-1989] (3CD clamshell box with Soft Cell, Gang of Four, Scritti Politti, Sisters of Mercy, others)
Aug. 4
Jerry Garcia, Might As Well: A Round Records Retrospective
Mammoth WVH, Mammoth II
Rick Springfield, Automatic
Aug. 11
David Bowie, Ziggy Stardust and The Spiders From Mars: The Motion Picture Soundtrack (50th anniversary edition)
Elvis Presley, Aloha From Hawaii Via Satellite (3CD/Blu-ray anniversary box)
Human League, Secrets (expanded 2CD reissue)
Liam Gallagher, Knebworth 22
Neil Young, Chrome Dreams
Public Image Ltd., End of World
Various artists, Jem Records Celebrates Ray Davies
Aug. 18
Aerosmith, Greatest Hits (3CD set)
Dead Daisies, Best of the Dead Daisies (2CD set)
Joe Strummer and the Mescaleros, Live at Acton Town Hall, London
Talking Heads, Stop Making Sense (expanded reissue)
Various artists, Abbey Road Reimagined (Matthew Sweet, Steve Stevens, Paul Shaffer, others)
Aug. 25
Alice Cooper, Road
Cindy Wilson [The B-52's], Realms
Sept. 1
Jethro Tull, The Broadsword and the Beast (expanded reissue)
Peter Frampton, At Royal Albert Hall
Phil Campbell [Motorhead], Kings of the Asylum
Tom Waits, Swordfishtrombones; Rain Dogs; Franks Wild Years (vinyl reissues)
Sept. 8
Andy Taylor [Duran Duran], Man's a Wolf to Man
Alice Cooper, Billion Dollar Babies ('Quadio' remaster)
Doors, Live at the Matrix 1967: The Original Masters
Fleetwood Mac, Rumours Live
Flower Kings, Look at You Now
Graham Parker, Last Chance to Learn the Twist
Little Richard, I Am Everything: Original Motion Picture Soundtrack
38 Special, Wild-Eyed Southern Boys; Special Forces (special deluxe-edition reissues)
Various artists, A Song for Leon: A Tribute to Leon Russell (Pixies, Margo Price, Nathaniel Rateliff, others)
Sept. 15
Beck, Bogert and Appice, Live in Japan 1973, Live in London 1974
Brian Setzer [Stray Cats], The Devil Always Collects
Carly Simon, These Are the Good Old Days: The Carly Simon & Jac Holzman Story (2CD set)
Pretenders, Relentless
Steve Miller, J50: The Evolution of the Joker
Who, Who's Next/Life House
Sept. 22
Breeders, Last Splash (30th anniversary reissue)
Clarence White [The Byrds], The Lost Masters: 1963-1970
Firefall, Friends & Family
Paul Rodgers, Midnight Rose
Replacements, Tim: Let It Bleed Edition (4CD/1LP box)
Susan Tedeschi [Tedeschi Trucks Band], Just Won't Burn (25th anniversary reissue)
Teenage Fanclub, Nothing Lasts Forever
Sept. 29
Ann Wilson, Another Door
David Gilmour and the Orb, Metallic Spheres In Colour (expanded reissue)
Grateful Dead, Wake of the Flood (2CD 50th anniversary deluxe reissue)
Green Day, Dookie (expanded 30th anniversary reissue)
Jason Isbell, Southeastern (4LP 10th anniversary reissue)
Runaways, Neon Angels on the Road to Ruin 1976-1978
Wilco, Cousin
Various artists, Into Tomorrow: The Spirit of Mod 1983-2000 (4CD set with Stone Roses, Paul Weller, Charlatans, Style Council, others)
Oct. 6
Darkness, Permission to Land … Again
Joni Mitchell, Archives - Volume 3: The Asylum Years (1972-1975)
Roger Waters, The Dark Side of the Moon Redux
Tom Waits, Bone Machine; The Black Rider (vinyl reissues)
Trevor Rabin [Yes], Rio
Van Halen, The Collection II
Oct. 13
Cranberries, To the Faithful Departed (3CD expanded reissue)
Jim Croce, The Definitive Croce (3CD box)
Lynryd Skynyrd, Fyfty
Pink Floyd, The Dark Side of the Moon (50th anniversary vinyl remaster)
Ringo Starr, Rewind Forward (EP)
Whitesnake, The Purple Album (expanded reissue)
Oct. 20
Blues Traveler, Traveler's Soul
Bob Dylan, Mixing Up the Medicine: A Retrospective
Chris Shiflett [Foo Fighters], Lost at Sea
Devo, 50 Years of De-Evolution 1972-2023 (2CD set)
Duff McKagen, Lighthouse (featuring Iggy Pop, Slash, Jerry Cantrell)
Duran Duran, Danse Macabre
Night Ranger, 40 Years and a Night With Contemporary Youth Orchestra
Prince, Diamond and Pearls (expanded box set reissue)
Rolling Stones, Hackney Diamonds
Tom Petty, Mojo (expanded reissue)
Various artists, Produced by Tony Visconti (4CD box with David Bowie, T. Rex, Thin Lizzy, U2, Gentle Giant, others)
Oct. 27
Billy Bragg, The Roaring Forty: 1983-2023 (2CD set)
Bruce Hornsby, Spirit Trail (expanded 25th anniversary edition)
Dokken, Heaven Comes Down
Motley Crue, Year of the Devil
Nirvana, In Utero (expanded 30th anniversary reissue)
Orchestral Manoeuvres in the Dark, Bauhaus Staircase
Nov. 3
Blasters, Mandatory: The Best of The Blasters
Bob Marley and the Wailers, Catch a Fire (50th anniversary expanded reissue)
Chicago, Greatest Christmas Hits
Christine McVie, Christine McVie; In the Meantime (reissues)
Jimmy Buffett, Equal Strain on All Parts
Johnny Marr [the Smiths], Spirit Power: The Best of Johnny Marr
Lol Tolhurst [The Cure] with Budgie and Jacknife Lee, Los Angeles (featuring the Edge, James Murphy, others)
Micky Dolenz, Dolenz Sings R.E.M.
Todd Rundgren, At the BBC 1972-1982 (3CD/DVD box)
Van Morrison, Accentuate the Positive
Nov. 10
Foghat, Sonic Mojo
Jimi Hendrix Experience, Hollywood Bowl August 18, 1967
Neil Young, Neil Young Archives Vol. I 1963-1972 (8CD box)
New Order, Substance 1987 (expanded reissue)
R.E.M., Up (expanded 25th anniversary reissue)
Nov. 17
Bob Dylan, The Complete Budokan 1978
Bon Jovi, Christmas Isn't Christmas
Bryan Ferry [Roxy Music], Mamouna (expanded reissue)
Frank Zappa and the Mothers, Over-Nite Sensation (expanded 4CD/Blu-ray 50th anniversary reissue)
The Kinks, The Journey – Pt. 2 (2CD set)
Dolly Parton, Rockstar (Elton John, Paul McCartney, Peter Frampton, Stevie Nicks, Sting, Steve Perry, others)
Juliana Hatfield, Juliana Hatfield Sings ELO
Mark Farner [Grand Funk Railroad], Rock 'N' Roll Soul: Live 1989
Various artists, Blank Generation: A Story of U.S./Canadian Punk and Its Aftershocks (5CD set, with the Ramones, Blondie, Television, Patti Smith Group, X, others)
Various artists, Looking for the Magic: American Power Pop in the '70s (3CD set, with Raspberries, Cheap Trick, the Knack, Big Star, the Cars, Shoes, others)
Vince Clarke [Depeche Mode/Erasure], Songs of Silence
NOV. 24: BLACK FRIDAY RECORD STORE DAY
RSD EXCLUSIVE
Captain Beefheart and the Magic Band, Shiny Beast (Bat Chain Puller): 45th Anniversary Deluxe Edition (2LP)
Eric Carr [Kiss], Rockology: The Picture Disc Edition (LP)
The Doors, Live in Bakersfield (2LP)
Faces, Had Me a Real Good Time … With Faces! In Session & Live at the BBC 1971-1973 (LP)
The Flaming Lips, Yoshimi Battles the Pink Robots: Live at the Paradise Lounge, Boston Oct. 27, 2002 (LP)
Goo Goo Dolls, Goo Goo Dolls (LP)
Grateful Dead, Fillmore West, San Francisco, CA 3/2/1969 (5LP)
INXS, Shabooh Shoobah: Rarities (LP)
Jeff Beck, Tribute (12-inch vinyl)
Jerry Lee Lewis, At the Palomino Club (2LP)
Joni Mitchell, Court and Spark: Demos (LP)
Little Feat, Live at Manchester Free Trade Hall 1977 (3LP)
Los Lobos, Kiko: 30th Anniversary Deluxe Edition (3LP)
Motley Crue, Too Young to Fall in Love EP (12-inch vinyl)
Leon Russell, Hank Wilson Vol. II (LP)
Rob Zombie, Lunar Injection Kool Aid Eclipse Conspiracy (LP)
Skid Row, B-Side Ourselves EP (12-inch vinyl)
13th Floor Elevators, Bull of the Woods (LP)
War, The World is a Ghetto: 50th Anniversary Collector's Edition (5LP)
X, Ain't Love Grand (LP)
RSD FIRST
Beach Boys, Christmas Album (LP)
Blood Sweat and Tears, What the Hell Happened to Blood Sweat and Tears: Original Soundtrack (2LP)
Collective Soul, Live at the Print Shop (LP)
The Doors, Live in Bakersfield (2CD)
Gov't Mule, Time of the Signs EP (12-inch vinyl)
Gram Parsons and the Fallen Angels, The Last Roundup: Live from the Bijou Café in Philadelphia March 16th 1973 (2LP)
Jerry Garcia and David Grisman, So What (2LP); Jerry Garcia and John Kahn, Pure Jerry: Marin Veterans Memorial Auditorium, San Rafael, CA – February 28, 1986 (2LP)
Joan Jett and the Blackhearts, Mindsets (LP)
Kix, Cool Kids: 40th Anniversary Edition (LP)
The Knack, Countdown Live 1980 (LP)
L.A. Guns, Live in Boston 1989 (LP)
Micky Dolenz [Monkees], Puts You to Sleep (LP)
Mamas and the Papas, Live at the Monterey International Pop Festival (LP)
The Monkees, The Monkees (LP)
Sweet, Level Headed: Alternative Mixes and Demos (LP)
Various artists, Punk Goes Christmas (2LP)
RSD LIMITED RUN / REGIONAL
Aimee Mann, Dead Eyes (7-inch vinyl)
Eric Carr [Kiss], Rockology: The Picture Disc Edition (CD)
Lenny Kaye and Cedar Sparks, Holiday Split (7-inch vinyl)
Limp Bizkit, Rock Im Park 2001 (CD)
Ultravox, Quartet: Steven Wilson Remix (2CD)
Nov. 24
Family, Bandstand (remastered and expanded reissue)
Glenn Hughes [Deep Purple, Dead Daisies] and Robin George [Phil Lynott], Overcome
Level 42, The Later Years: 1991-98 (7CD set)
Lillian Axe, The Box, Vol. 1: Resurrection (7CD set)
Mick Ralphs [Mott the Hoople/Bad Company], On the Run: 1984-2013 (4CD box)
The Move, Shazam (remastered vinyl edition)
Nektar, Remember the Future (50th anniversary 4CD/Blu-ray box)
Tina Turner, Queen of Rock 'n' Roll (3CD set)
Various artists, We Can Work It Out: Covers of the Beatles 1962-66 (3CD box, with Joe Cocker, Mamas and the Papas, Jan and Dean, Ventures, others)
Yes, The Yes Album (expanded reissue)
Dec. 1
Argent, Original Album Classics (5CD box with Argent, Ring of Hands, All Together Now, In Deep and Nexus)
Aretha Franklin, A Portrait of the Queen 1970-1974 (5CD box)
Bobby Keys [Rolling Stones], Lover's Rockin': The Lost Album (with Keith Richards and Ronnie Wood)
The Grass Roots, Leaving It All Behind / Move Along / Alotta' Mileage (2CD set)
Peter Gabriel, i/o
Robben Ford [Joni Mitchell/Kiss], Night in the City
Violent Femmes, Violent Femmes (2CD 40th anniversary deluxe edition)
Dec. 8
Bryan Adams, Into the Fire: Live at the Royal Albert Hall (3CD/Blu-ray box)
Mott the Hoople, All the Young Dudes: 50th Anniversary Deluxe Edition (5CD box)
Neil Young, Before and After
Pink Floyd, Atom Heart Mother (expanded special-edition reissue)
Warren Haynes, Presents: The Benefit Concert Volume 20 (3CD/Blu-ray box with Dave Grohl, Joe Bonamassa, others)
Dec. 15
Black Crowes, The Southern Harmony and Musical Companion (expanded reissue)
Johnny Winter, The Johnny Winter Story: The GRT/Janus Recordings (2CD set)
Various artists, Long Story Short: Willie Nelson 90 (2CD/Blu-ray box with Keith Richards, Neil Young, Dave Matthews, Sheryl Crow, others)
Jan. 19
Dire Straits, Dire Straits: Live 1978-1992 (8CD box)
Green Day, Saviors
Robby Krieger [the Doors], Robby Krieger and the Soul Savages
Sleater-Kinney, Little Rope
Various artists, Pushin' Too Hard: American Garage Punk 1964-1967 (3CD with Captain Beefheart, ? and the Mysterians, Paul Revere and the Raiders, others)
Jan. 26
10cc, 20 Years: 1972-1992 (14CD box)
The Smile, Wall of Eyes
Feb. 2
Average White Band, AWB: A 50th Anniversary Celebration (15CD box); AWB (50th anniversary half-speed master edition)
Feb. 16
Blackberry Smoke, Be Right Here
Feb. 23
Mick Mars [Motley Crue], The Other Side of Mars
March 8
Judas Priest, Invincible Shield
March 15
Lenny Kravitz, Blue Electric Light
Scott Stapp [Creed], Higher Power
March 29
Sheryl Crow, Evolution
TBA / Rumored:
Ace Frehley, 10,000 Volts; Origins, Vol. 3
Adler (untitled, details here)
Bad Company (untitled, details here)
Bruce Dickinson, The Mandrake Project
Bruce Springsteen, Tracks 2; Covers Vol. 2
Chris Robinson (untitled, details here)
David Crosby (untitled, details here)
George Clinton, One Nation Under Sedation
Jerry Lee Lewis (untitled, details here)
Joe Walsh (untitled, details here)
Kinks (untitled reunion LP, details here)
Krokus, (untitled, details here)
Lemmy Kilmister, (untitled solo debut, details here)
MC5, Heavy Lifting
Mick Mars (untitled John Corabi collaboration, details here)
Neil Young, Ragged Glory (expanded edition)
Pearl Jam (untitled, details here)
Robert Plant (untitled, details here)
Robin Taylor Zander [Cheap Trick] (untitled solo debut)
Roger Waters (untitled, details here)
Steve Perry (untitled, details here)
U2, Songs of Ascent
ZZ Top (untitled, details here)
Top 20 Rock Albums of 2023 (So Far)
The best offerings from the first half of the year.
Gallery Credit: Ultimate Classic Rock Staff
Rock's Most Expensive Out-of-Print LPs