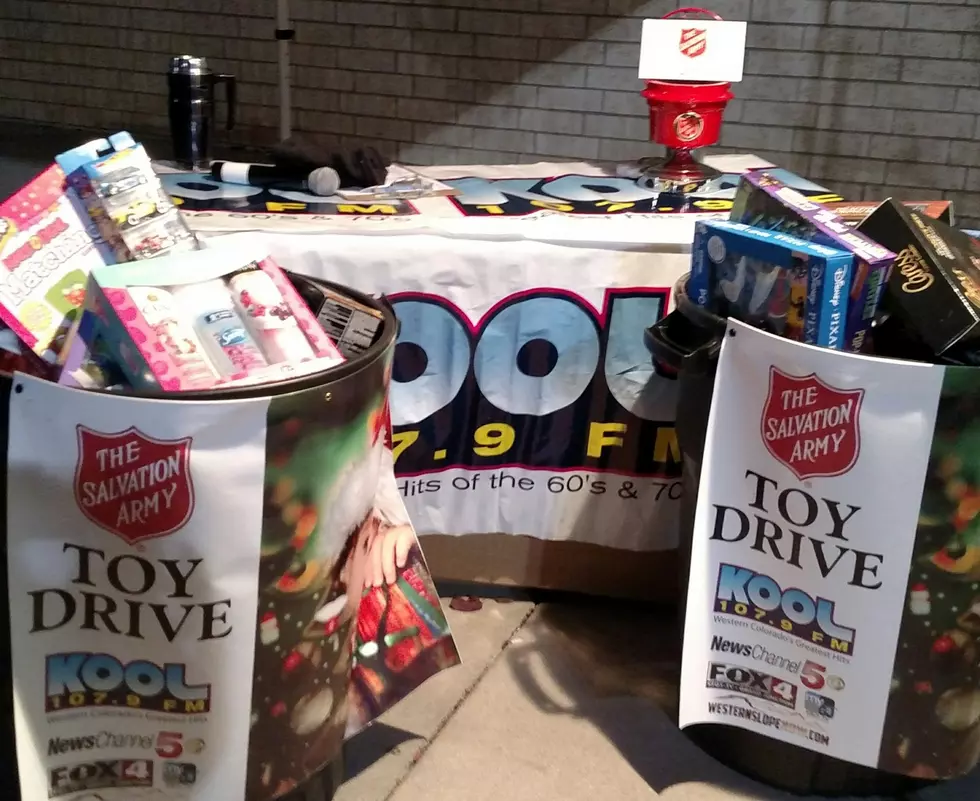 Where to Find Drop-Off Locations For Salvation Army Toy Drive in Grand Junction
Zane Mathews
The Salvation Army is collecting new toys for families in need this holiday season and has arranged for more than 30 convenient drop- off locations.
Toys and gift cards are needed for kids of all ages from infants through teens and can be dropped off at any toy barrel location. When you are making a toy donation, make sure the toy barrel says Salvation Army.
The Salvation Army works tirelessly 12 months out of the year to provide for the less fortunate in our community. They have an excellent program in place which ensures that people who really are in need get holiday assistance with toys and food.
Here is where you can take your donations of new toys.
KOOL 107.9                            315 Kennedy Avenue
KREX TV                                 345 Hillcrest Drive
 Ace Hardware                         569 32 Road, Clifton
Alpine Bank                             125 N Park Square, Fruita
AmeriGas                                 690 Railroad Blvd.
Animal Medical Clinic               573 32 Road
Birch Dental                              2490 Patterson #2
Brass Rail                                 476 28 Road
Bray Real Estate                       1015 N. 7th Street
Coloramo                                   516 28 Road
Curves                                       2479 Patterson #23
Dollar General                           1803 J 2/10 Road, Fruita
DMV Insurance                          1150 N. 25th Street
GJARA
Golden Corral                            1100 Independent Avenue
GJ Chrysler/Jeep/Dodge           2578 Highway 6 & 50
GJ Subaru                                  651 Market Street
Hub International                         2742  Crossroads Blvd.
Kannah Creek Brewery               1960 N. 12th Street
Keller Williams                             715 Horizon Drive Ste 225
Modern Classic Motors                975 Independent Avenue
Orchard Mesa Lanes                   295 27 Road
School District 51                         2115 Grand Avenue
State of CO Youth Corrections     360 28 Road
Toys For the Fun of It                    519 Main Street
Zebras                                           1141 N. 25th Street #F
La Puerta Dance Studio                523 1/2 Main Street
Mortgage Solutions Financial        2412 Patterson Ste 1
Hampton Inn                                  205 Main Street
Rent-a-Center                                2401 North Avenue
Your Sign Company                       2478 Industrial Blvd.
Flowers By Lorraine                       120 W Park Dr #112
Family Dollar - Orchard Mesa        2776 Acrin Avenue