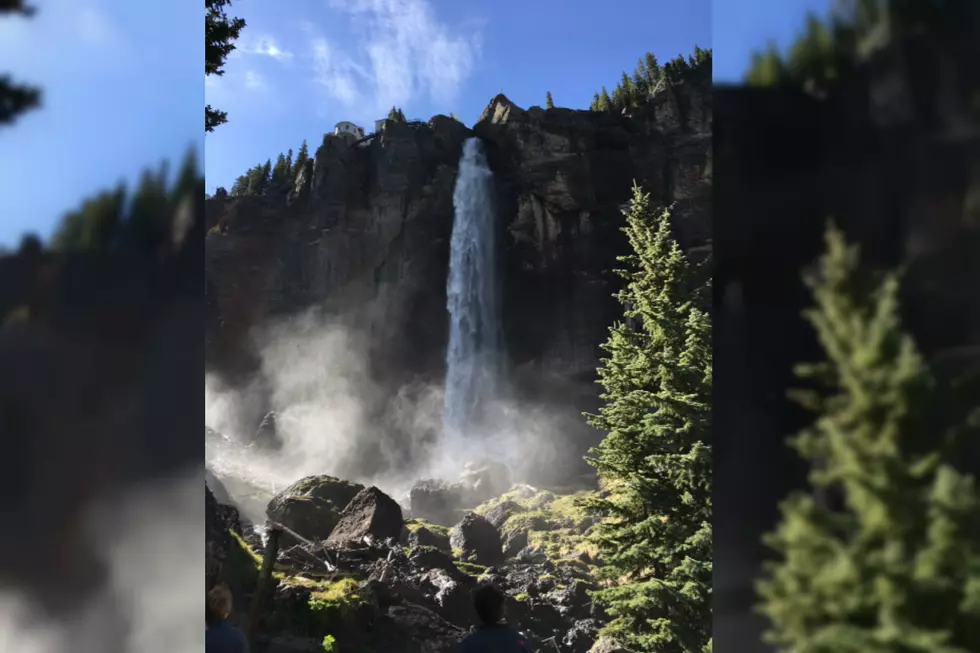 Top 5 Colorado Waterfall Hikes
Ray Michaels
Before summer's over, do these awesome waterfall hikes.
The first weekend in June, I met some friends in Telluride. One of the highlights was our hike up Cornet Creek Trail and it's a spectacular finish at the 80 foot Cornet Falls.
The hike was short but a bit tricky. There was some scrambling on some loose gravel and rocks, so wear sturdy shoes. Make sure you explore the view of the falls from all sides as you can walk around and under the falling water.
That hike got me fired up to check out other Colorado falls. After some looking around, here is my "hit list" of Top 5 Colorado waterfall hikes.
5) Bridal Veil Falls - I didn't have time to make this hike on my last two trips to Telluride but I'm getting it done on my next. My friends from Kansas City made the trip and sent me this great shot in this post. At 365 feet, these spectacular falls are the tallest free-falling in Colorado. The hike is 1.8 miles each way to the top with an elevation gain of 1,650 feet. It takes most hikers about an hour each way to make the trip.
4) Rifle Falls - It's under a two-hour drive from Grand Junction to Rifle Falls State Park. The home of these spectacular falls. This hike isn't difficult. At only 1.5 miles round trip and without much elevation gain the falls are accessible to almost everyone. The falls are a cool 70-foot triple waterfall. To add to the adventure there are limestone caves around to explore.   
3) Zapata Falls - A visit to the Great Sand Dunes National Park is on my "to do" list too. When I get there I don't want to miss Zapata Falls. Access to the trailhead requires a lengthy drive along a rough dirt road with several switchbacks. The road may suck but that keeps this waterfall from being overrun by tourists. The hike to the falls is "family-friendly" and easy at less than a mile round trip. The hike offers great views of the sand dunes and the San Luis Valley.
 2) Jasper Creek Waterfall - If you're over on the front range for a weekend, make time to take in Devil's Thumb Pass trail. It's a full day of adventures not far from Boulder. This is a long 13-mile hike considered "moderate" in difficulty. You'll want to plan and be ready for this hike and its 2,400 feet elevation gain. Bring plenty of food and water. The waterfall isn't the final destination of this hike. It's added motivation to push on to Jasper Lake and then some.
1) Hanging Lake - This is one of Colorado's more famous waterfall hikes. I WILL get there in the near future! The lake and its famous falls are just past Glenwood Springs off I-70 in Glenwood Canyon. The crystal clear lake is surrounded by greenery that gives it's "hanging' appearance. Smaller waterfalls spill off a cliff into the lake. It's no surprise its one of Colorado's most beloved destinations. That means lots of tourists. Try not to visit on holidays or weekends if possible. The trail is short but can be challenging.
There you have it! My Top 5 end of summer waterfall hikes. Try and make it to at least a couple of them before summer's over!