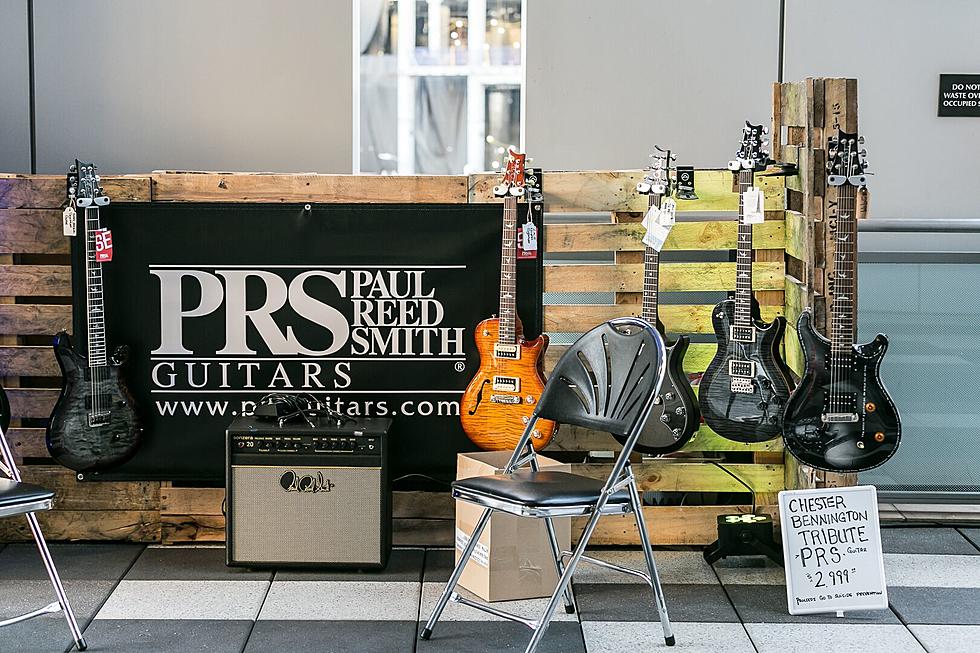 The Music Experience Salute Chester Bennington + Chris Cornell, Showcase Special Guitars at 2017 Loudwire Music Awards Activation
Kathy Flynn for Loudwire
As fans began to roll in to the 2017 Loudwire Music Awards, there was an activation near the entrance of the Novo catching the eyes of many music lovers. The Music Experience was on hand at the ceremony to show off a collection of PRS guitars that have been relevant in heavy music. In the lead up to the show, there were also guitars being painted in tribute to Chester Bennington and Chris Cornell that were being auctioned off.
The Music Experience producer Squiggy DiGiacomo told us, "We're doing some hand painted guitars and we're going to donate a portion of the money to suicide prevention and there are tribute guitars to Chester Bennington and to Chris Cornell. The guitars are painted by Ronzworld Guitars. Ron is a pretty prolific painter, especially in instrument space, so they are one of one hand painted guitars. There's no other ones like them in the world."
The two guitars for Bennington and Cornell are really quite striking with a black base and painted murals of the musicians adorning the instrument. As stated, proceeds from the sale of the instruments will go to a suicide prevention charity in honor of the two musicians.
For The Music Experience, it truly is all about the instrument. DiGiacomo says that he's grown fond of learning the stories of particular instruments and it drew him to the activations that The Music Experience have been putting on. "For me, the passion part is to humanize the instruments," says DiGiacomo. "It's one thing to look at a guitar and say it's a piece of work with some strings on it, but when you can get in environments that are inspiration-based or are showcasing the end result of what the inspiration is like an award show, it's just really nice to have instruments aligned with the emotional experience that's happening. All of these guys we are celebrating onstage, because they are icons and they are gods in the metal world, but at the end of the day I think the thing that gets looked over is that the instruments played a very integral part in these guys becoming who they were."
During their activation, fans were able to come view instruments from the likes of Mark Tremonti or Periphery's Mark Holcomb, getting a look at the intricate detail and learning more about the models and histories. "I'm a fan of the stories that are attached to guitars," says DiGiacomo. "When I want to hear the Jimi Hendrix story, I want to hear it from the Fender's perspective or Marshall's perspective. The PRS story as told through Tremonti."
Check out some of our photos of The Music Experience's Activation at the 2017 Loudwire Music Awards in the gallery below and learn more about The Music Experience at this location.