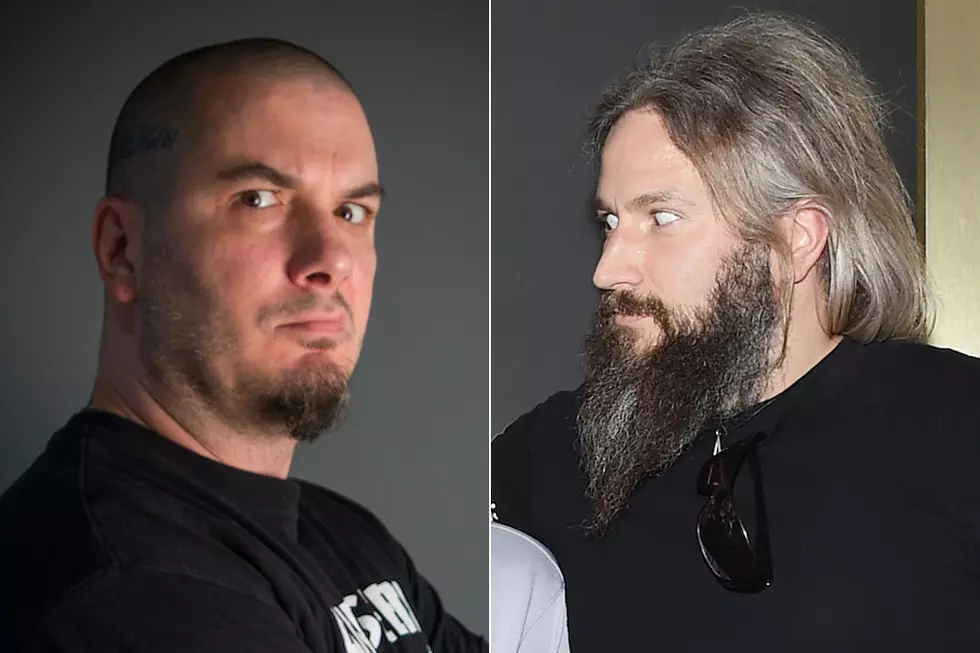 That Time Philip Anselmo Complimented Troy Sanders' Penis
Photo by Jimmy Hubbard / Larry Busacca, Getty Images
If you've ever got five minutes alone with Philip Anselmo, make sure it's not in the bathroom! During a new interview, Mastodon told two penis-related stories about being on the road with the Pantera legend and the antics that can occur at your everyday urinal.
Mastodon will be unleashing their seventh studio album, Emperor of Sand, this Friday and they've been doing tons of press to get the word out. While chatting with Killswitch Engage's Jesse Leach on the Talkhouse podcast, Mastodon guitarist Bill Kelliher told a story about Anselmo using his third arm.
"Phil Anselmo, guy is f--king genius, so funny. Should be a comedian, not kidding," said Kelliher. "He was in the bathroom with Troy one time -- they were both taking a leak next to each other. He's like, 'Hey buddy, check out my new tattoo.' Troy looks over and he's just holding his f—ing dick. [laughs] So stupid!"
Sanders added that Anselmo later complimented his "Mastodong": "I was peeing later in that afternoon and he comes creeping up behind me and his head just comes around my waist, just his head, right by my penis, and he says, 'Your s—t's a lil bigger than medium,' and backs away and leaves. Why was he trying to flatter me? Why would you do that? Good times."
Get ready for Emperor of Sand coming on March 31! You can listen to the full Talkhouse podcast below.
See Pantera + Mastodon in the Top 100 Hard Rock + Metal Albums of the 21st Century
Watch Loudwire's 'Vulgar Display of Power' Documentary