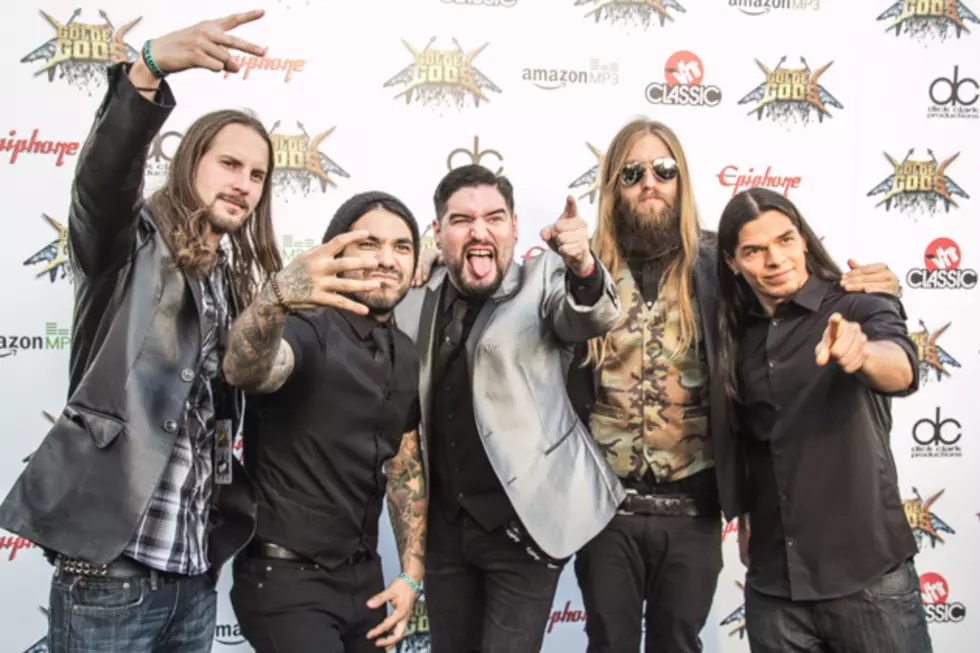 Suicide Silence's Eddie Hermida: 'When a Brother Falls, You've Got to Pick Up the Family'
Kathy Flynn, WickedGoddessPhotography.com
Just prior to the Revolver Golden Gods Awards, Suicide Silence revealed the news that they had completed their first album with Hermida called 'You Can't Stop Me.' Loudwire had a chance to talk to the vocalist about the disc, joining the band and performing that night at the Golden Gods ceremony during a chat on the black carpet. Check out our interview with Hermida below:
So I guess we got the big news today. 'You Can't Stop Me' album…
Yeah, you did. July 15 here in America. We're really stoked.
Can you tell me a little bit of the story on that title?
Well the title of the album comes from lyrics that Mitch [Lucker] left behind. We were looking at the lyrics and were curious what to do with them, but we knew right away that that was going to be the title of the record. We actually had the title of the record before we started writing any of the music. But it was super fitting how the lyrics came together, what it means, and what the album really means.
You know Mitch passing away was something brutal. It's something you never want to go through, but you've got to push through. There's five members to a band, and when a brother falls, you've got to pick up the family and keep it moving forward. I'm lucky to be here and I'm very proud to be here.
There were a lot of people who paid tribute to Mitch Lucker at his memorial show. Can you talk about the feeling of that night?
The tribute show was so beautiful. It was cathartic to say the least. I think the crowd felt like it was a cathartic experience, we felt like it was a cathartic experience as friends of Mitch. The singers and everyone I talked to expressed that. And personally, I had one of the best experiences onstage. It was a way to thank the members and our brother for all the inspiration that he's given me and be able to give back. And never in my mind did I think that I was going to be here doing this, so in the end, I'm super happy. It was just an experience to say the least.
And as for joining Suicide Silence, can you take me into what it was like during those first few sessions getting a chance to play with the band?
The experience in the studio was different for me. I'm used to writing very separately from the band and writing at home on a computer and being able to switch over from my video games and just not really think about music when I'm not really feeling it. But with this, it was gung ho, go for it, you're in it. And A) I think the record came out amazing and B) it was just a fun experience.
With tonight's Golden Gods gig being the first U.S. show with you in the group, how cool is it going to be to get up onstage and rock with Suicide Silence as your band tonight?
Well I already played my first show with them in Australia and it was insane. It was everything I've ever expected a show with them to be. But they make it really easy for me to perform to be honest. The music is super heavy and the kids really accept the music and move with it. When you don't have to sit there and call out a move every five minutes, it makes the show a whole lot better.
Our thanks to Suicide Silence's Eddie Hermida for the interview. You can catch the band on tour this spring and summer. See their current dates here.