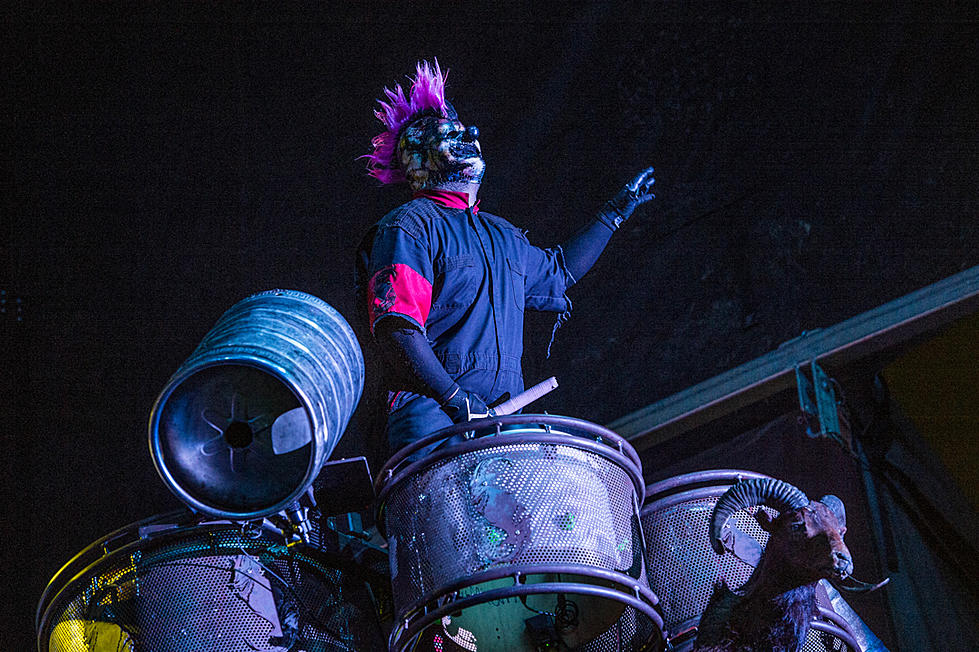 Slipknot Are Playing the Iowa State Fair
Amy Harris, TheFirst3Songs.com
Slipknot have played all over the world, but surprisingly there's a stop in their own backyard that they've yet to rock. The band will mark the Iowa State Fair off their checklist in 2019.
The performance, which takes place Aug. 10 at the Iowa State Fair in Des Moines, is the first show announced for 2019 from the band. "We're finally going to play here," states Shawn "Clown" Crahan in a video teaser, walking the currently vacant facilities at the fairground, before invoking his best Bart Scott, stating, "Can't wait." You can see social media teasers both from Slipknot and the Iowa State Fair below.
"I'm gonna drive from my house directly to the stage just like I do when I come to the fair," Crahan told the Des Moines Register. "It makes no sense why we haven't played here." The percussionist added, ""It's not only work and commerce; there's a lot of spirituality here for me, it's gonna be a really good time to play the fair and walk out and enjoy the fair."
As stated, in the Iowa State Fair tease, tickets for this special performance will go on sale at 10AM local time on Nov. 2. Get more details and purchase your tickets at this location.
Slipknot's Corey Taylor recently revealed that the band is planning on being in the studio to record their next album early in 2019, with the tentative plan to launch a world tour in the summer to coincide with their expected album release. The August performance at the Iowa State Fair would seemingly fit within that timeline for the rollout of a new album and tour.
In a separate interview, Taylor made the bold statement that he felt the band had written the heaviest song of their career, before adding, "One of them anyway." He teased the disc as "What if the guys who made Iowa matured?," and stated of their forthcoming release, "Some of this shit is just so hard and dirty fast. It's fucking really good. It's also us at our most ambitious, our most experimental, also us doing what we fucking do best which is basically when everybody thinks they've got us figured out, we just smack them in the face with everything we've got."
Corey Taylor Plays 'Wikipedia: Fact or Fiction?'