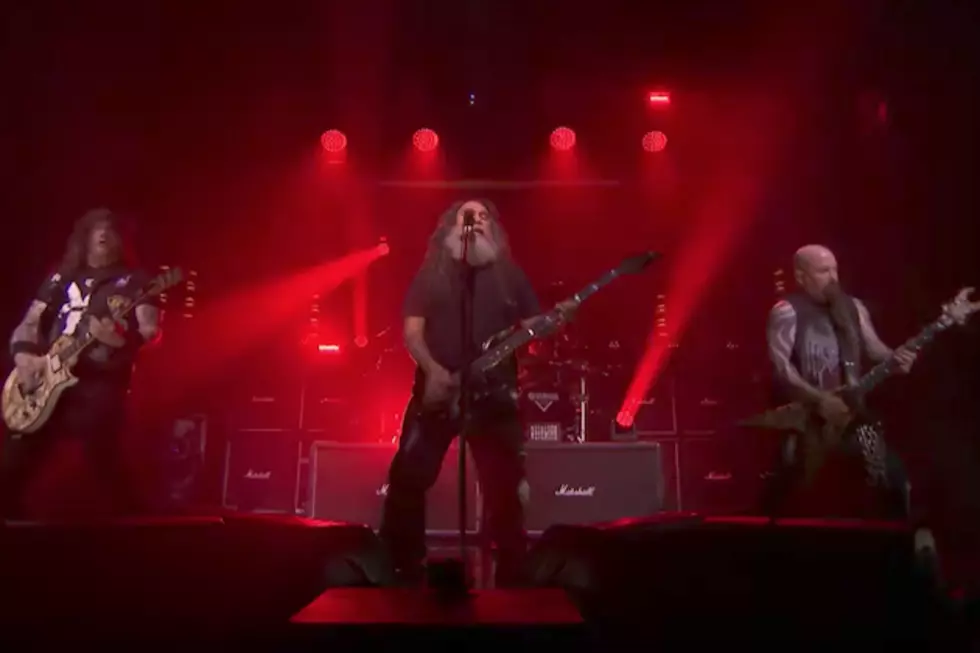 Slayer Pummel 'The Tonight Show Starring Jimmy Fallon' Audience With 'Raining Blood' Performance
YouTube: The Tonight Show Starring Jimmy Fallon
Even Jimmy Fallon screams, "SLAAAYEEERRR" these days! The thrash legends made an appearance on late night television last night (July 27) on The Tonight Show Starring Jimmy Fallon prior to their stop at the Theater at Madison Square Garden with Lamb of God and Behemoth in tow, performing the classic "Raining Blood."
It's a bit of a strange transition from the suit-clad Fallon as the camera pans to the audience's right following his aforementioned introduction. With the stage drenched in a deep red hue, the opening guitar squeals and whammy-driven moments signal the beginning of the song, alongside Paul Bostaph's thunderous floor tom strikes. When the signature lead comes in, it's easily the most evil thing that's happened on late night TV as Slayer tear through the rest of the song.
Below is another Tonight Show clip featuring the members of Slayer (Kerry King, Paul Bostaph, Gary Holt and Tom Araya) sharing some of their most memorable moments from the road. First up is King, who gets it started with an Amsterdam story. We know where this one is going and the guitarist explains that their tour manager tried hash for the first time and then went missing. They leave the gig for the next one, only to find their tour manager had beat them there!
Bostaph then explained an incident at the Hard Rock Cafe where Magic Johnson's All Stars were present. The drummer picks up a stray ball to take a shot, but was way off target, nailing a surveillance camera on the ceiling, which fell and spilled others' drinks. Holt's story involves "oilspotting," which is the act of leaving a band member behind when the bus takes off. Exodus drummer Tom Hunting accidentally got left at a truck stop, only for the band to realize it eight hours later.
The last to go is Araya, who is the only one to tell a drinking story, recalling an incident in Canada during Slayer's first tour in 1984. After slamming more than a responsible amount of beers, he walks outside into the snowy parking lot for some party tricks, commanding everyone to watch how far he can projectile vomit onto a car. Under Jeff Hanneman's instruction, Araya then proceeded to melt snow that was blanketing more cars.
Slayer's tour with Lamb of God and Behemoth will extend through Aug. 20 and a list of remaining stops can be found here.
Slayer's Tom Araya Plays 'Wikipedia: Fact or Fiction?'