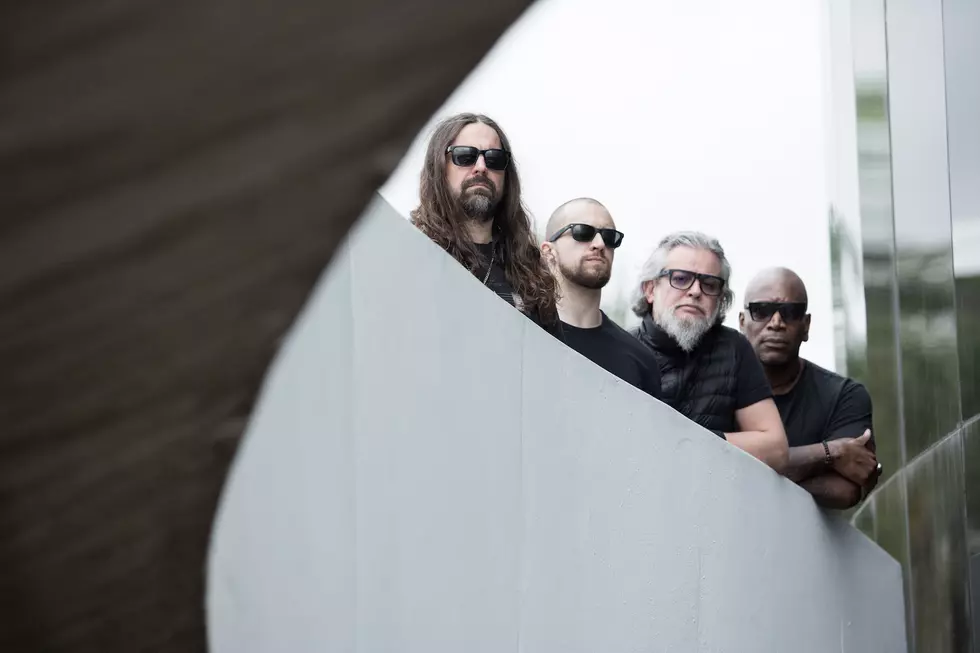 Sepultura Release Punishing New Song 'Last Time'
Marcos Hermes
Nearly 35 years after releasing their first album, influential Brazilian thrash troupe Sepultura's evolution remains in motion as evidenced by the second Quadra single "Last Time."
A shred-fest of tapping melodies is quickly chopped down by driving, down-beat thrash in this pit-crazed preview of the band's forthcoming 2020 record. There's elements in "Last Time" that are reminiscent of Pantera and Testament, both instrumentally and vocally, though Sepultura manage to stay in their own lane, introducing atmospheric passages and vocal choirs as the song moves on.
Listen to "Last Time" below and head here to listen to "Isolation," the first single from the new album.
"Quadra, among other meanings, is the Portuguese word for "sport court" that by definition is a limited area of ​​land, with regulatory demarcations, where according to a set of rules the game takes place," guitarist Andreas Kisser said of the album's title.
"We all come from different Quadras. The countries, all nations with their borders and traditions; culture, religions, laws, education and a set of rules where life takes place," he continued. "Our personalities, what we believe, how we live, how we build societies and relationships, all depends on these set of rules that we grew up with. Concepts of creation, gods, death and ethics."
Kisser tied everything in, concluding, "Money — we are enslaved by this concept. Who's poor and who's rich, that's how we measure people and material goods. Regardless of your Quadra you need money to survive, the prime rule to play this game called life."
Quadra, Sepultura's 15th album, will be out on Feb. 7 through Nuclear Blast and can be pre-ordered here.
Once the record has been released, the band will hit North America on a month-long tour with Sacred Reich, Crowbar and Art of Shock. See those dates further toward the bottom of the page.
Sepultura, Sacred Reich, Crowbar + Art of Shock 2020 Tour Dates
March 18 — San Diego, Calif. @ House of Blues
March 19 — Los Angeles, Calif. @ Mayan Theater
March 20 — Berkeley, Calif. @ UC Theatre
March 21 — Sacramento, Calif. @ Ace Of Spades
March 23 — Denver, Colo. @ Summit Music Hall
March 24 — Iowa City, Iowa @ Wildwood
March 26 — Minneapolis, Minn. @ Varsity Theater
March 27 — Milwaukee, Wis. Rave II
March 28 — Chicago, Ill. @ House of Blues
March 29 — Detroit, Mich. @ Harpo's
March 30 — Toronto, Ontario @ Opera House
April 01 — Montreal, Quebec @ Astral
April 02 — Boston, Mass. @ Paradise Rock Club
April 03 — Pittsburgh, Pa. @ Rex Theater
April 04 — Brooklyn, N.Y. @ Warsaw
April 06 — Cleveland, Ohio @ House of Blues
April 07 — Philadelphia, Pa. @ Theatre Of Living Arts
April 08 — Baltimore, Md. @ Soundstage
April 09 — Charlotte, N.C. @ Underground @ The Fillmore
April 10 — Atlanta, Ga. @ Masquerade
April 11 — Ft. Lauderdale, Fla. @ Culture Room
April 12 — Tampa, Fla. @ The Ritz
April 14 — New Orleans, La. @ House of Blues
April 16 — Houston, Texas @ Warehouse Live
April 17 — Oklahoma City, Okla. @ Diamond Ballroom
April 18 — Dallas, Texas @ Gas Monkey Live
April 19 — Austin, Texas @ Emo's
April 21 — Phoenix, Ariz. @ Van Buren
April 22 — Ventura, Calif. @ Ventura Theatre
See Sepultura in 2020's Most Anticipated Rock + Metal Albums