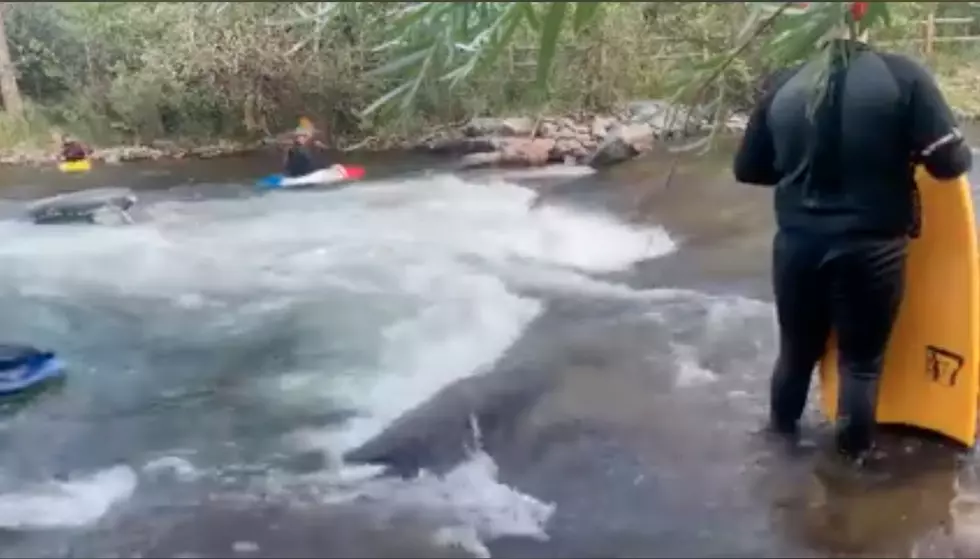 River Surfer Rescues Young Boy at Golden Whitewater Park
Jimmy Switzer via Facebook
A scary situation at the Golden Whitewater Park in Golden, Colo. where a young boy was trapped in the whitewater feature ended with good news.
Summer is in full swing in Colorado, and that means residents are enjoying many of the state's waterways. Enjoying these refreshing creeks, rivers, and lakes can be dangerous if not used properly.
A river surfer in Golden was in the right place at the right time, as he put it in his Facebook post. Luckily, for a young boy, someone was there.
As you can see in the video, there are a couple of river surfers, and kayakers utilizing the river feature that creates a wave to surf -- this same energy that helps them surf, is what put this boy in danger.
Shortly after the video starts, you see a young boy go through the wave on a tube, just seconds later, another young boy makes his way through the wave. The second boy didn't make it through as easily as the first when his tube hit the wave and flipped. As the tube floats away, you can see the boy getting "sucked" back into the wave.
At this point, you can see the two kayakers notice the boy recirculating in the wave, and begin to make their way in. It's was at this moment, Jimmy Switzer notices the boy and rushes to his rescue surfing into the way, grabbing the boy by his lifevest and exiting the wave.
The boy was wearing a life vest, which is a good thing, but that's what helped lead to the situation. The vest acted like a surfboard, keeping him retained in the wave.
Jimmy Switzer shared a message for parents and kids using rivers:
⚠️ WARNING TO PARENTS!! These river rapids are not the lazy river at your local amusement park. Even with a PFD on, children are at EXTREMELY high risk of drowning. This scenario plays out more often than you think, and sadly there's not always someone there to jump in. Please consider the dangers of whitewater tubing with your young children.
This message is extremely important to remember when utilizing the Colorado River and the new Las Colonias River Park this summer.
Enter your number to get our free mobile app
How Western Colorado Towns Got Their Names