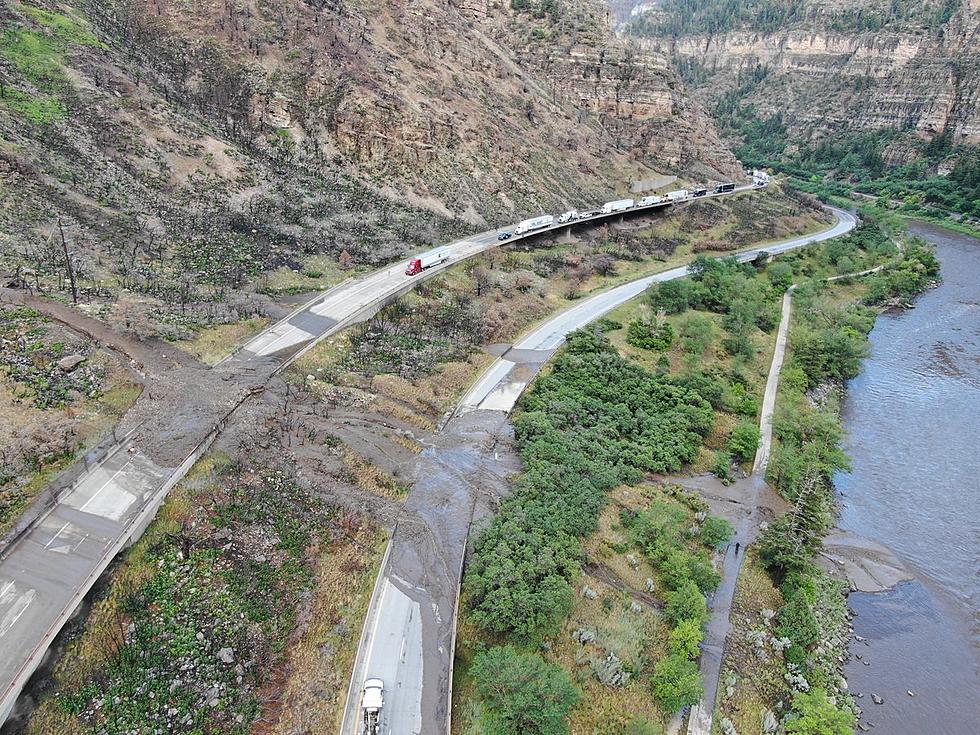 Mudslide Closes I-70 In Glenwood Canyon.. Again
Glenwood Springs Fire Department/Colorado Department of Transportation via Twitter
It was less than 48 hours ago that a portion of I-70 - which had been closed in both directions on Saturday, June 27 due to a massive mudslide between Glenwood Springs and Dotsero - had been reopened for travel.
However, the road reopening only lasted a few hours; by 5:53 p.m. on Sunday, another mudslide in the area prompted officials to close Interstate I-70 once again.
At 10:43 p.m. Sunday night, the Colorado Department of Transportation (CDOT) shared via Twitter that 1-70 in Glenwood Canyon would be closed overnight from West Rifle to Dotsero.
As per the Sunday night update, CDOT crews worked to clear mudflow debris overnight and will be reassessing the debris & closure on Monday morning (June 28).
While the road remains closed, eastbound traffic is being detoured onto Exit 87 continuing north onto Colorado Highway 13, as per cotrip.org. Westbound traffic can exit at Silverthorne and travel north on Colorado 9 to U.S. 40, then west to Craig. From Craig, take Colorado 13 south to Rifle and back on I-70.
As of Monday morning, there was no estimated time of reopening.
Over the weekend, the same section of the interstate was shut down for several hours after a massive mudslide from the Grizzly Creek Fire burn scar buried the road near the No Name Exit. Both eastbound and westbound labs reopened around 10 p.m. Saturday night.
For the latest traffic and travel reports, visit cotrip.org. 
2020 Cameron Peak Fire