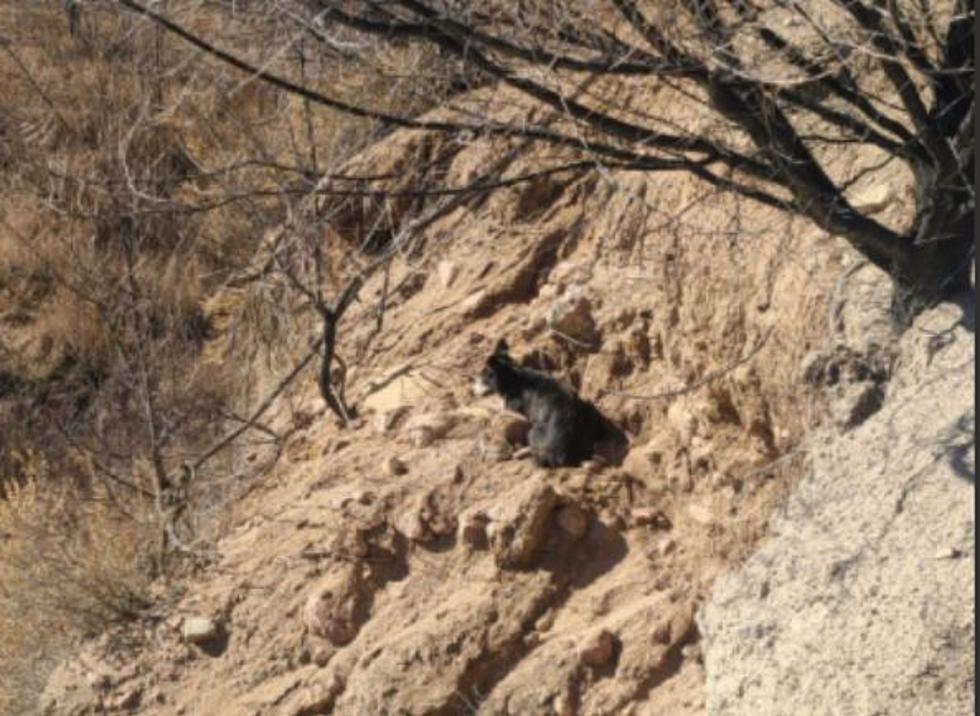 Missing Colorado Dog Found And Rescued From A 150 Foot Cliff
Facebook/ Humane Society Of The Pikes Peak Region
A cute little dog that was lost for about two weeks has been found and rescued from a pretty scary predicament that she got herself into.
Thanks to the Pikes Peak Region's Animal Law Enforcement Team who spotted the dog up on a cliff about 150 feet high, the dog was brought down to safety after a long two weeks or so of surviving alone in the wilderness.
She's like the dog version of Bear Grylls.
It seems like it was quite the team effort to get the dog down to safety as the crew from the Animal Law Enforcement Team reached out to a local resident who supplied them with a safety harness and rope to make sure things went smoothly for all involved.
I mean, just looking at the pictures of where this dog got herself stuck is pretty scary in itself, so a big round of applause for all involved from the Pikes Peak Humane Society team that did their thing and did it well. I mean, yikes.
Thanks to the pup's microchip, they were able to identify her as "Jessie Lee" - I love dogs with people names, especially a fun one like that) - and that's when they determined that the dog had been missing for nearly two weeks.
Officials called the owner who was obviously ecstatic to get their four-legged baby back home and safe.
Thanks again to the Humane Society of the Pikes Peak Region for a job well done helping that dog and its owner get closure and some happiness just in time for the holidays.
UP NEXT: Check out these 50 fascinating facts about dogs:
2019 Fort Collins Pooch Plunge
Top Ranked Fort Collins Dog Parks
What You Need To Know About Fruita Live Nativity
This is a great family-friendly event that could end up being the highlight of your Christmas season. It's a live outdoor nativity that takes visitors back to a blessed night so many years ago when Jesus was born in the little town of Bethlehem. Here's what you need to know about the live nativity presentation in Fruita.