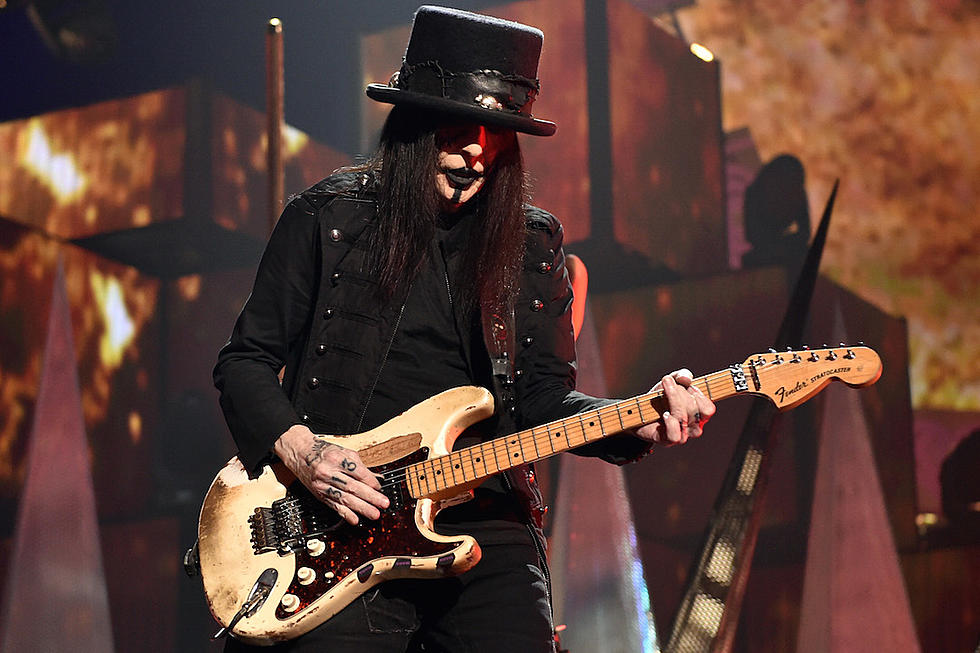 Mick Mars Says Solo Album Will Be Heavier Than Motley Crue
Kevin Winter, Getty Images
Motley Crue guitarist Mick Mars says his upcoming solo album will be heavier than what he's done with Motley Crue. Mars recently spoke with "Talking Metal" Podcast about the highly anticipated record, which doesn't have a release date because he is waiting for it to be the best it can, and The Dirt biopic about Crue.
"I've been working on this for years, trying to get it right. In my way of thinking, I didn't want to put out a record just to put out a record. It has to be right, for me," Mars says. "People wanna hear my music, it needs to be right. I'm not just cutting corners to, like I said, put out a record to put out a record. I just can't do it. So it's taking me a while."
Andy Biersack of Black Veil Brides and Vince Neil's replacement in Motley Crue, John Corabi, were rumored to be guest vocalists on Mars's new record at one point. "Those kind of went away. I'm looking for a singer that's gonna be with me in the recording studio, and if it blows up by any chance, which I hope it does, to be on tour. Because, how many times have you gone to a concert and it's like, not the same singer?"
Mars then says he would prefer to have a few different singers featured on his record to accommodate different sounds. "But different musician singers like, this is gonna sound crazy, The Beatles. The three guys that sang all these harmonies, you can have John [Lennon] sing on a song, or Ringo [Starr] or whoever! That kind of a thing is kind of what I'm going for — I'd like to do it but if it happens, cool, and if it doesn't, that's cool, too. Because no matter what, this record ain't going out until I'm really satisfied with it."
As for progress, he has drum and bass tracks laid down, guitar scratch tracks and no singers. "I'm searching," he says laughing. "Not invalidating any really great singers that are out there. It's just got to be this certain element that he has, or she, that I'm hearing in my head. It has to be that because I don't want to put out this mediocre thing, even though people think it might be."
Mars explains that the musical style of the record is his own. "My playing has a blues element to it, of course, but it isn't like what you would call a blues record. It's more of a heavier rock thing, but I don't want to even try to out-heavy the heavies. It's just something that's hopefully just a little different than what's going on now. You're not gonna hear a Motley song or a Motley-flavored song, except for the guitar. They're gonna be a bit harder than that, but not as hard as the heavies like Ministry and some of those guys."
Asked whether he's seen and approves of the upcoming Motley Crue biopic The Dirt, "It has its high points and low points, just like any movie, I guess. I don't know, I'm not indifferent or weird or anything...When you read a book, and it goes to a movie, it's not quite the same. It would be impossible to take a 10 year movie to make all that's in the book. I think the fans are gonna really like it." Mars admits he rarely hears from his bandmates Vince Neil, Tommy Lee and Nikki Sixx. "But I still have to do my part for the Motley corporation," he adds.
Listen to the full interview here. Motley Crue just released their cover of Madonna's "Like a Virgin" earlier today (March. 15). The Dirt will be out on Netflix March 22.
See Mick Mars in the 66 Best Hard Rock + Metal Guitarists of All Time