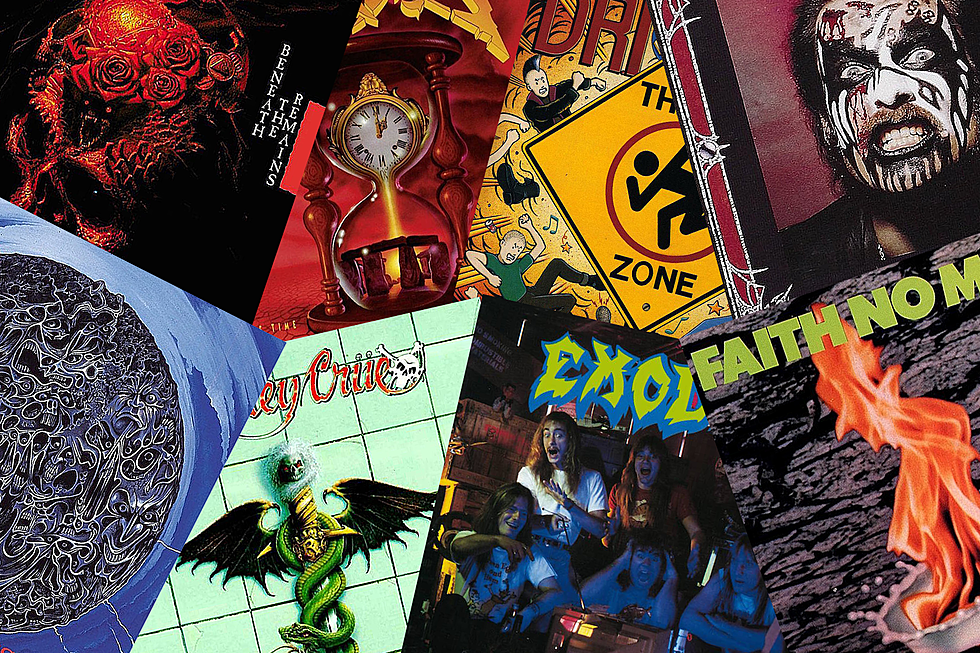 50 Metal Songs That Defined 1989
Roadrunner Records / Active / Metal Blade / Roadrunner Records / Earache / Elektra / Capitol / Slash/Reprise
As befits the last year of any decade, 1989 marked a period of multiple transitions in heavy metal. Thrash metal was cresting and simultaneously making way for the latest word in sonic extremism: death metal.
Meanwhile, hair metal was reaching the reckless apex of its hubris, set on a Titanic-like course toward the grungy iceberg of inevitable disaster.
In fact, this long simmering tension between '80s thrash and '80s glam; each representing heavy metal's polar ambitions to simultaneously repulse the mainstream and be embraced by it, helped spawn an exciting and unpredictable number of alternate (soon to be "alternative") musical experiments, delving into industrial, funk, punk, gothic, progressive and altogether indescribable metallic offshoots.
And the strange coincidence that some of metal's biggest names — Maiden, Priest, Metallica, Slayer, Motorhead, Megadeth — were actually in-between albums, gave 1989 another layer of Bizarro World surrealism.
So as we look back on 50 songs that defined heavy metal in 1989, with 30 years of hindsight, all we can say is, "What a year! Wish they were all so complicated, intriguing and unpredictable!"