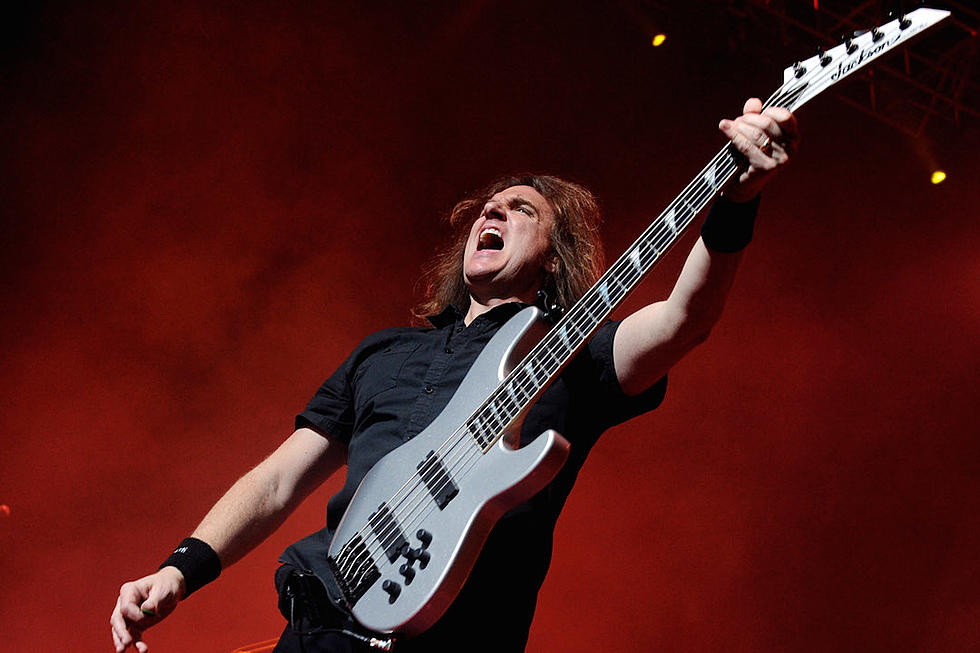 Megadeth's David Ellefson: Metal Is Not the Devil's Music
Kevin Winter, Getty Images
David Ellefson recently gave a sermon at the Megadeth Bootcamp which was held in March on Dave Mustaine's private California estate. The Lutheran pastor has now opened up on his preparation of the sermon, which dealt with metal's intertwined nature with Hell and the Devil.
Speaking on Rock Talk With Mitch Lafon, the Megadeth bassist explained he was uncertain about how to approach the idea of giving a religious sermon to a group of metalheads as "it's kind of a sensitive subject." Mustaine then urged him to speak about how "you can still listen to heavy metal and not go to Hell."
Ellefson used Iron Maiden's "The Number of the Beast," Black Sabbath's "War Pigs," Slayer's "South of Heaven," Ghost's "Absolution" and Megadeth's "Holy Wars" as the "worship music" for the sermon that he "based the theology on." Dialing up his pastor for related scripture suggestions, this led to Revelation 13:18 being used as a jumping off point as the opening spoken words of Maiden's title track is taken from this text.
Bringing the focus back to the theme of the sermon, Ellefson explained to the Megadeth Bootcamp group, "Look, God's… he's cool with this. I mean, God's the creator which is how all music is created. The Devil has no creative or redemptive power, so the music didn't come from the Devil, as a lot of people would think." He also cautioned, "At the same time, if music, or movies or whatever it is you're into, forces you down roads of temptation, well, then you probably shouldn't be doing it. And I speak from experience with that, for sure."
Relating the "fascination with the occult and the dark side and the abyss and 'what if' and all these different things," Ellefson detailed how just because metal does deal in these darker areas, it does not represent a testimony from the song's author(s). "It's like Stephen King writing a fictional novel," he said. "It didn't actually happen; it's just a story about it. Just enjoy the story and don't put so much judgment around it."
Pointing to songs within Megadeth's own catalog that may be confused for taking a pro-stance on these darker issues ("Five Magics, "Bad Omen"), Ellefson affirmed they are "fictional accounts." He also backed Mustaine's choice to opt out of playing certain songs that lyrically no longer align with the musician's personal beliefs. In the past, the Megadeth frontman had maintained a hard stance against ever playing "The Conjuring" again, but has since debated bringing it back to the stage.
Where Does David Ellefson Rank Among the Top 66 Hard Rock + Metal Bassists of All Time
David Ellefson Plays 'Wikipedia: Fact or Fiction?'