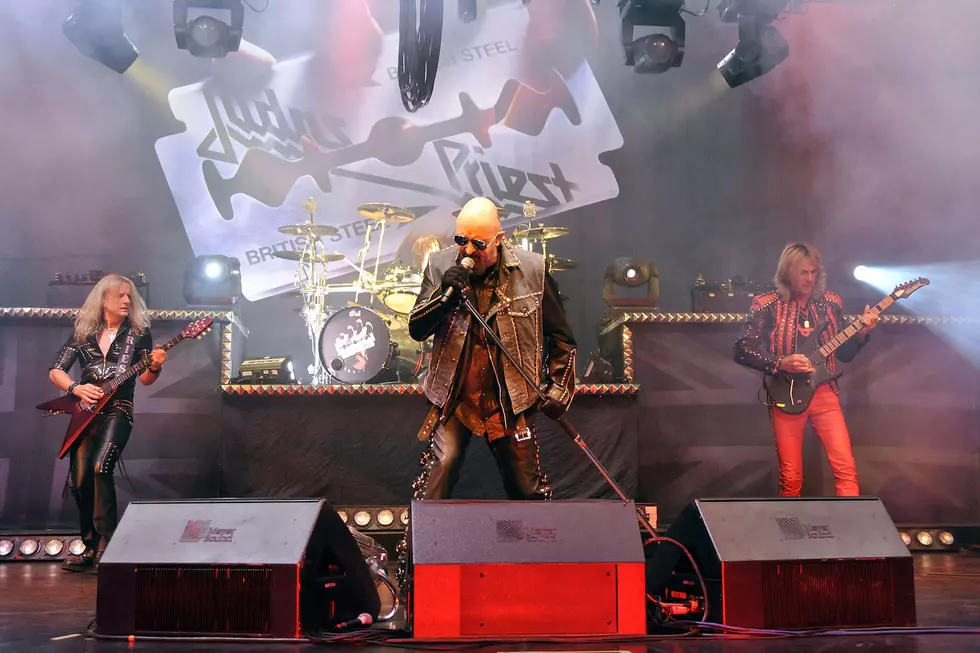 Judas Priest's Rob Halford to K.K. Downing: Andy Sneap Did Not Play Glenn Tipton's Parts on 'Firepower' [Update]
Kevin Winter, Getty Images
Update: To avoid any further confusion, guitarist K.K. Downing has clarified his remarks about Andy Sneap and Glenn Tipton. He says in a new posting: "Hi everyone,
just to clarify that my complimenting Andy Sneap as I did was no more than I would have said about any other guitar playing producers that have also contributed much more than expected to our past albums. Great talent such as Chris Tsangarides (R.I.P) and Roy Z both not only produced – but also contributed song ideas, riffs and licks, lyric ideas etc. Consequently, albums like Painkiller and Angel of Retribution would not have been the same without them. Even George Martin, I believe, provided much more for the Beatles than just the role of a normal producer. An extra musician in the studio, like the aforementioned talented producers, really does bring a great benefit. K.K."
Yesterday, former Judas Priest axeman K.K. Downing released a statement regarding Glenn Tipton's decision to step away from the band's upcoming tour due to his battle with Parkinson's Disease. In the statement, Downing revealed he was "shocked and stunned" he wasn't asked to rejoin the band given this sudden news and insinuated that producer Andy Sneap handled Tipton's guitar parts on the new album, Firepower. Now, Rob Halford has clarified this notion in a new interview.
"Let me just say that the great joy of Judas Priest is that we've never gone into this kind of arena of a public dispute," Halford began telling The Freaks With Kenny and Crash radio program when addressing Downing's comments. He mentioned it's easy to "fall into that trap in social media today" and kept his focus on just one aspect on his former guitarist's statement (Downing also alleged that his value is "unappreciated by more than one member" of the band).
"A lot of it, to me, is completely superfluous," Halford went on. "I can categorically state that that is a thousand percent false," the Metal God said of Downing's notion that Sneap took over for Tipton in the studio. "I was with Glenn for all of his guitar work, and he worked really, really hard. Imagine this guy in the tenth year of Parkinson's. I've never seen anybody so brave in the fact that every song was a challenge for him to make it work, but he did — consistently, day after day. It was just a very powerful thing to experience firsthand. And this just goes to show you about the amazing stories that surround individuals around the world that are dealing with Parkinson's in their life."
Halford finished up, "Everything that you hear from Glenn on Firepower is the amazing Glenn Tipton. Oh yeah!"
Firepower, Judas Priest's 18th studio album, will be released on March 9 and the British legends will kick off their North American tour in support of the record on March 14 with Saxon and Black Star Riders in tow. Go here for a list of all the upcoming stops.
Rob Halford on The Freaks With Kenny and Crash
Judas Priest Albums Ranked
10 Greatest Metal Guitar Duos