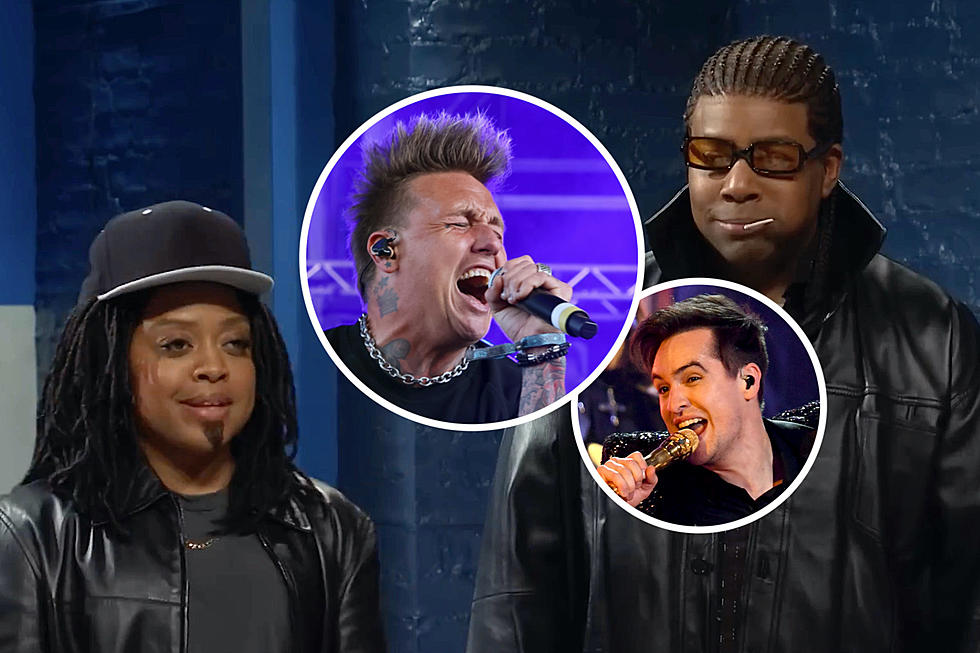 Papa Roach, Panic! at the Disco Noted for Their Whiteness in 'SNL' Sketch
YouTube: Saturday Night Live / Theo Wargo, Kevin Winter, Getty Images
Saturday Night Live included recognizable song lyrics from the rock bands Papa Roach and Panic! at the Disco in reference to whiteness in a comical sketch about a bathroom drug deal last weekend.
The "Drug Dealer" skit stars Abbott Elementary creator and writer-actress Quinta Brunson, SNL's April 1 host, alongside SNL mainstay Kenan Thompson and fellow SNL players Marcello Hernandez, Devon Walker, Punkie Johnson and Michael Longfellow.
Watch the sketch toward the bottom of this post.
READ MORE: Hear This Pop Makeover of 'Last Resort'

In the bit, competing drug dealers exchange quips about whose cocaine is more pure and whiter. Brunson and Thompson trade nods to Papa Roach's 2000 nu-metal hit "Last Resort" and Panic! at the Disco's 2005 emo-rock anthem "I Write Sins Not Tragedies."
"Well, my coke is like — Cut my life into pieces / This is my last resort," Keenan says (and sings) in character, referencing the heavy Papa Roach earworm.
"Mine is like — I chimed in with a / Haven't you people ever heard of…" Brunson fires back.
"…Closing the goddamn door," SNL's Andrew Dismukes responds as the buyer, finishing the Panic! lyric from the band's A Fever You Can't Sweat Out breakout.
Other funny digs thrown out in the skit include the comparison, "whiter than Season 2 of The Wire," and, in a wink at current pop culture, "My stuff is so white it's like Gwyneth Paltrow skiing in Utah."
Panic! at the Disco Breakup
The Panic! at the Disco reference on SNL comes just two months after Panic! at the Disco lead singer Brendon Urie announced the breakup of the longtime pop-rock act and emo favorites.
"A journey must end for a new one to begin," Urie said. "I am going to bring this chapter of my life to an end and put my focus and energy on my family, and with that Panic! at the Disco will be no more."
READ MORE: Fans React to Panic! at the Disco Breakup
The singer added, "Thank you all for your immense support over the years. … Whether you've been here since the beginning or are just finding us, it has been a pleasure to not only share the stage with so many talented people but also share our time with you."
Urie formed Panic! at the Disco in 2004 with the musicians Ryan Ross, Brent Wilson and Spencer Smith. But the group's last three albums (2016's Death of a Bachelor, 2018's Pray for the Wicked, 2022's Viva Las Vengeance) feature only Urie as the main artist.
READ MORE: See a Bunch of Animals Sing 'Last Resort'
Papa Roach, who last year released Ego Trip, are on tour now. Get Papa Roach tickets here. Under the video, see a list of artists who are banned from SNL.
Sign up for Loudwire's newsletter and get the Loudwire app to stay up on the latest rock and metal news.
SNL "Drug Dealer" Sketch References Papa Roach + Panic! at the Disco - April 1, 2023
Papa Roach, "Last Resort" (Music Video)
Panic! at the Disco, "I Write Sins Not Tragedies" (Music Video)
Musicians Who Are Banned From Saturday Night Live
These musical acts were naughty and got exiled from the NBC late night comedy show.