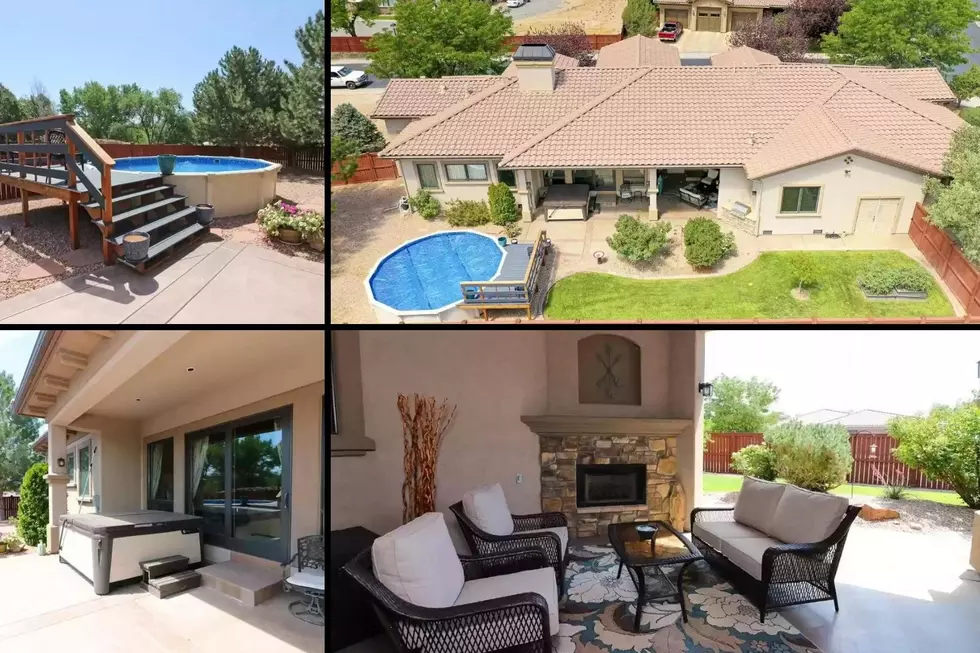 Grand Junction Home in High Pointe Estates Includes a Pool and Hot Tub
Canva Pro
Summertime in Colorado gets pretty hot. So far this July, Grand Junction has been through six days when the temp has reached 100 degrees or higher.
Wouldn't it be great to have a pool? Let's head across the Colorado River to check out a super comfy home that just hit the market. Keep cool all year with the pool and hot tub right here in your backyard.
Where is the High Pointe Estates Neighborhood in Grand Junction?
For as much time as I spend driving to the Colorado National Monument, I go past High Pointe Drive on a weekly bases. This is such a nice area across the river past Monument Road as you travel on Broadway. High Pointe Drive will be on the right.
Check Out the Indoor & Outdoor Fireplaces
You'll find a fireplace in the living room and in the main bedroom suite at 416 High Pointe Drive. You'll also be able to enjoy the fireplace from the covered patio area outside. You'll find five bedrooms and three bathrooms inside this 3119-square-foot home.
Enjoy Soaking in the Hot Tub or Jump in the Pool
Scroll on to see inside the High Pointe house and the fun play area out back. This home is presented by Dave Kimbrough and is brokered by RE/MAX 4000, INC. Tap the link to see the full listing from Realtor.com just added in mid-July.
Grand Junction Home in High Pointe Estates Includes a Pool and Hot Tub
Tour this single-family home finished in 2005 in Grand Junction, Colorado's High Pointe Estates neighborhood. This home offers over 3000 square feet of living space with a pool and hot tub in the backyard for summer fun.
KEEP GOING: Name a Colorado Town that Most People Mispronounce
There are plenty of Colorado towns that people just can't pronounce correctly. It's not just the newbies either. Plenty of Colorado natives also have issues saying and spelling towns in our state as well. Which one always gets you? Let's take a look:
MORE: Least Expensive Rentals Currently Available in Grand Junction, Colorado June 2022
Are you in the market for a rental? Perhaps a small one bedroom apartment? Then again, you may want to rent a unit in a duplex. If you're searching for an affordable rental, these are the least expensive units on the market in Grand Junction, Colorado as of June 24, 2022.