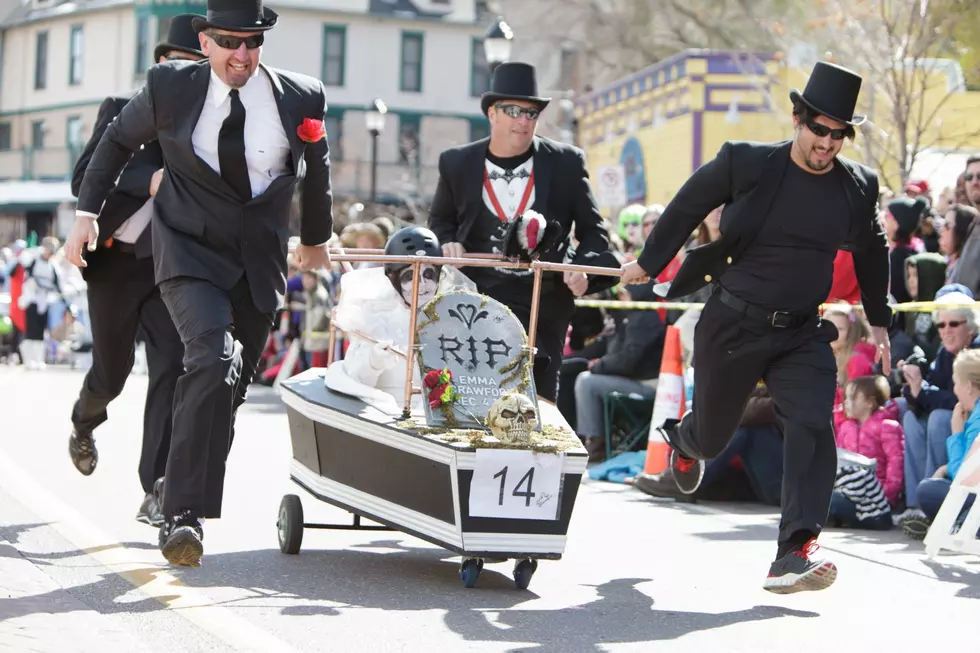 Emma Crawford Coffin Races this Weekend in Manitou Colorado
Phil Barnett-used by permission Manitou Springs Chamber
Yes, I did say coffin races. It's Halloween time, what better race to have?
The race honors Emma Crawford, who moved to the area in 1889 to try and find a cure for her tuberculosis. She ultimately passed away, but her wish was to be buried on top of Red Mountain, which her fiance' did, carrying her coffin up 7200 feet to bury her near the summit.
But as far as final resting places are concerned, this one wasn't to be permanent. After several years of harsh weather, her coffin became unearthed and plummeted down the mountain. And that's where the idea for the race came from.
Starting at noon with the parade (yes, parade) the whole day event will have you gasping, laughing and wondering why you haven't done this before. The races get started around 1230, and once they have finished, you have the after party to attend.
Racing coffins is a lot of fun, and the way some of these things are built will have you in stitches long before they start racing.
Make sure you get the shuttle into town as there is no parking within the town, but the shuttles are free and so is the parking!
Do yourself a favor this weekend. Head to the coffin races in Manitou Springs. You'll die laughing.