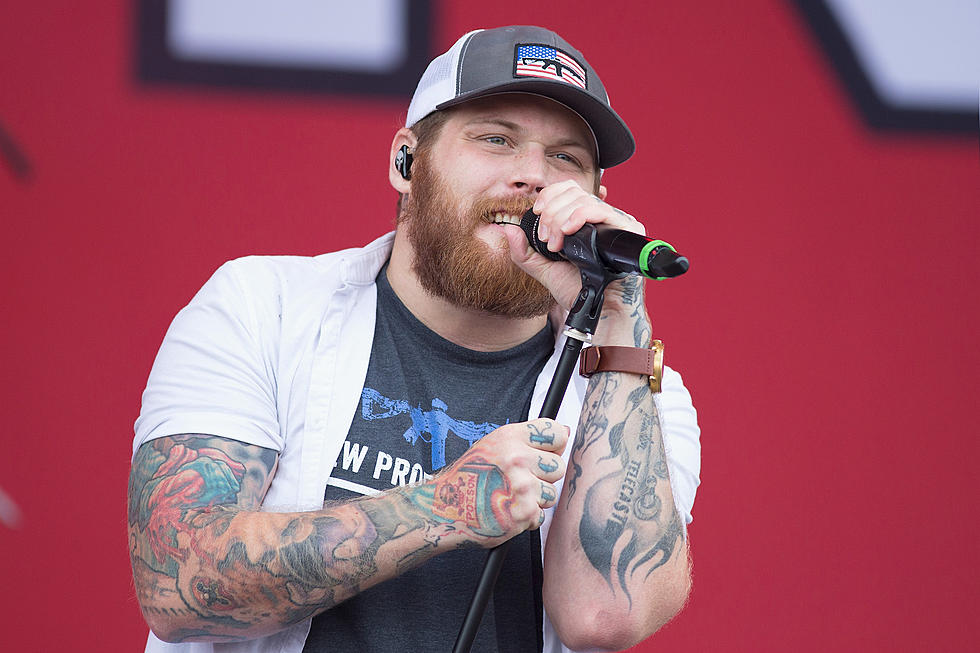 Asking Alexandria's Danny Worsnop Announces Solo 2020 U.S. Tour Dates
Jo Hale, Getty Images
Starting a day into the new year in Scottsdale, Arizona, and winding its way around the country over the ensuing month, the stretch of concerts will follow a busy 2019 for Worsnop. The past year-plus has seen the singer release his second solo album — preceded by singles such as "Little Did I Know" and "Angels" — as well as find the frontman proposing to his girlfriend in the middle of an Asking Alexandria concert. See Worsnop's upcoming solo dates down toward the bottom of this post.
Atlanta rockers Starbenders will join the English musician as a supporting act on the trek dubbed by Worsnop as "Live on Tour: The Tour." Get tickets, VIP packages and more information here.
"I already have a whole album written, so I'm ready," Bruce said in August. "I'm just waiting to pull the trigger. The self-titled album did so much for us as a band. We almost reinvented ourselves and took our career to a whole new level and it's been really good."
Danny Worsnop "Live on Tour: The Tour" Solo 2020 U.S. Tour Dates
Jan. 2 — Scottsdale, Ariz. @ Pub Rock Live
Jan. 3 — Los Angeles, Calif. @ The Echo
Jan. 4 — Anaheim, Calif. @ Chain Reaction
Jan. 5 — Sacramento, Calif. @ Holy Diver
Jan. 7 — Seattle, Wash. @ El Corazon
Jan. 8 — Boise, Idaho @ The Shredder
Jan. 9 — Salt Lake City, Utah @ The Urban Lounge
Jan. 10 — Denver, Colo. @ Lost Lake Lounge
Jan. 11 — Lincoln, Neb. @ The Royal Grove
Jan. 12 — Des Moines, Iowa @ Lefty's Live Music
Jan. 13 — Burnsville, Minn. @ The Garage
Jan. 14 — Green Bay, Wis. @ Green Bay Distillery
Jan. 15 — Joliet, Ill. @ The Forge
Jan. 16 — Pontiac, Mich. @ Pike Room
Jan. 17 — Pittsbnurgh, Pa. @ The Crafthouse Stage & Grill
Jan. 18 — Scranton, Pa. @ Stage West
Jan. 19 — Harrisburg, Pa. @ Harrisburg Midtown Arts Center
Jan. 20 — Cambridge, Mass. @ Sonia Live Music Venue
Jan. 21 — Brooklyn, N.Y. @ Saint Vitus
Jan. 22 — Philadelphia, Pa. @ Voltage Lounge
Jan. 23 — Washington, D.C. @ The Pinch
Jan. 24 — Greenville, S.C. @ The Radio Room
Jan. 25 — Charlotte, N.C. @ Amos' Southend
Jan. 26 — Atlanta, Ga. @ The Masquerade
Jan. 27 — St. Louis, Mo. @ Fubar
Jan. 28 — Kansas City, Mo. @ The Riot Room
Jan. 29 — Dallas, Texas @ The Blue Light
Jan. 30 — Katy, Texas @ Wildcatter Saloon
25 Best Metalcore Albums of All Time