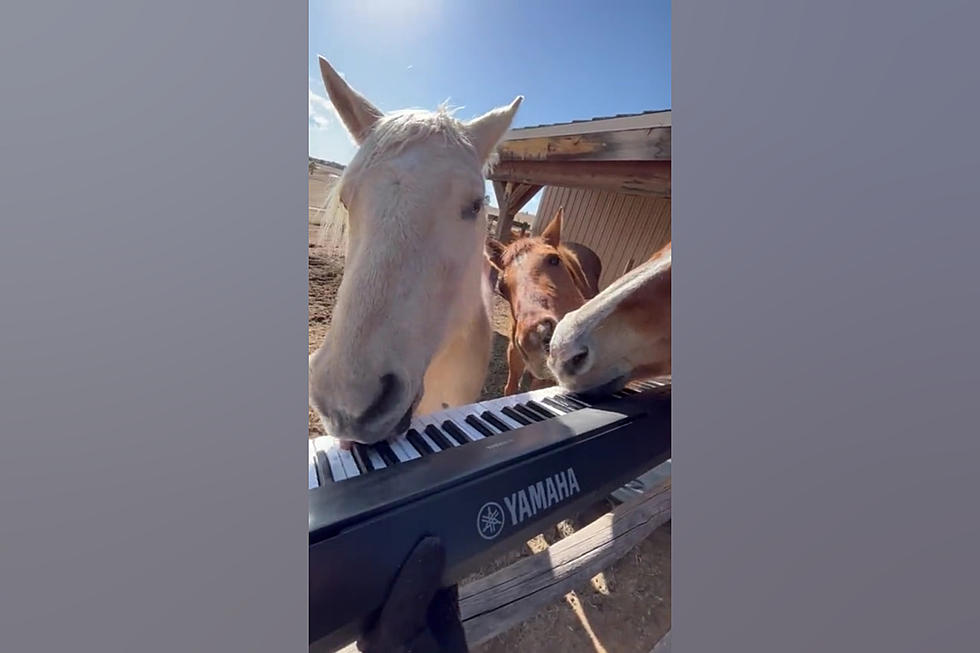 Let's Watch 3 Colorado Rescue Horses Play Piano
ViralHog via Rumble
I can honestly say that I did not wake up today expecting to get to see horses playing piano, but that's exactly what I have here. The best part is the backstory of why the horses are tickling the ivories is even better than the video itself.
This fun moment happened in Colorado Springs a few days ago. Here's the backstory from the video share explaining who these horses are and why what they're doing is special:
Brooksie, Wesley, and Lady are all horses rescued from kill pens. They are part of my Misfit Crew Sanctuary. My sanctuary rescues senior, critical care needs, and hospice horses. We have partnered with Children's Hospice in Denver so those kiddos can come down and meet the horses. We are working on establishing the same partnership with Ronald McDonald House. I am always looking for new opportunities to teach the horse fun things to do with the kids. One of my horses even dances
Don't tell anyone, but I took piano lessons for 7 years and doubt that I could match these horses for musical aptitude.
What a sweet effort to have these animals be available to help cheer up ailing children. Quite possibly the best pick-me-up moment making its rounds on the net today.
Grand Junction Horses of Yesteryear - Robert Grant Photos
Please enjoy a number of Bob Grant photos from the Grand Valley's past. These came from a box labeled "Horse." Yep, that's it, the box was called "Horses." These were selected at random, covering a number of decades.
Stunning Pictures of the Wild Horses of Sand Wash Basin
The Sand Wash Basin HMA (Herd Management Area) is located in the northwest corner of Colorado, about 50 miles west of Craig, Colorado, and is home to over 800 wild horses. Scott Wilson is a Colorado photographer who was recently able to capture some amazing pictures of the herd.
Amazing Pictures of Wild Horses of Sand Wash Basin in Colorado
Look at these amazing pictures of the wild horses of Sand Wash Basin in Colorado. There are 900 horses that live on the 160,000 acres of the Sand Wash Basin.