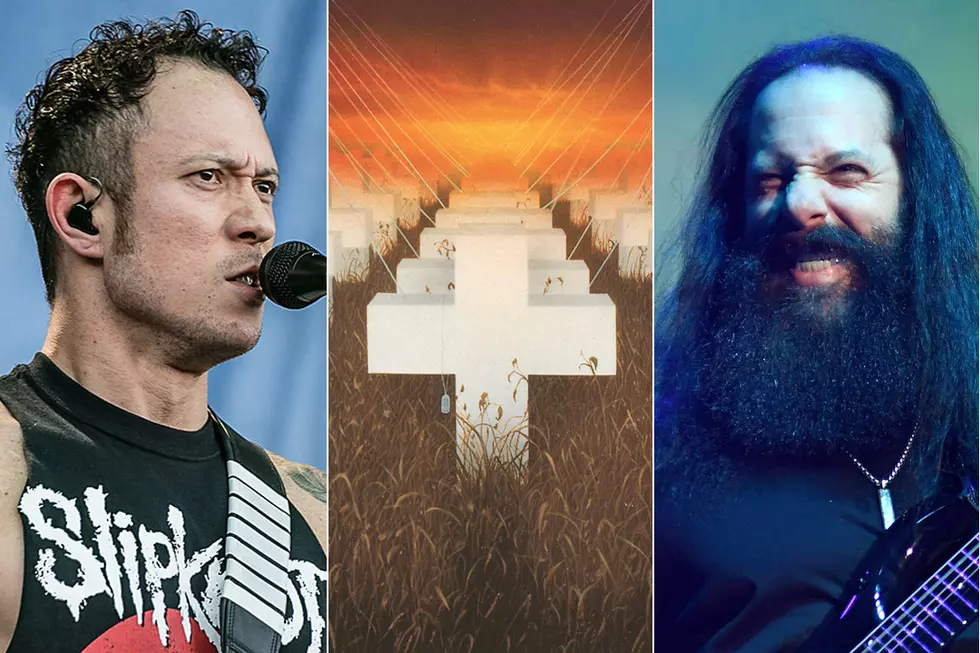 The 11 Best Covers of Metallica's 'Master of Puppets'
Kathy Flynn, WickedGoddessPhotography.com / Elekta / Ethan Miller, Getty Images
Metallica's influence is boundless and after inspiring more than three decades worth of musicians, countless artists have paid their respect to metal's most popular bands with cover songs. Only a select amount of groups dared to take on "Master of Puppets" though and we've rounded up the best versions of that all-time Metallica favorite.
Honestly, we're not sure how anyone arrives at the conclusion of electing to cover the title track to Metallica's 1986 major label debut — it's one of those songs, a masterclass in adventurous songwriting, that really just can't be touched or replicated. In most of the cases below, these bands wisely didn't attempt to merely recreate the original version, and for the couple that did, their tenacity paid off.
There's even one cover that doesn't have a single guitar or bass on it!
Now, obey your master and check out the 11 Best Covers of Metallica's "Master of Puppets" directly below.
Trivium's Matt Heafy has made no attempt to shy away from his undying adoration for metal's biggest band. Hell, he's even gone to bat for Load and Reload, urging fans to give those records another chance.

Before doubling down on the 'Tallica worship with The Crusade in late 2006, the band dished out their version of "Master of Puppets" just a few months before that record was released. It takes some guts to cover this one at the age of 20, but Heafy is fearless and he and the band laid down a masterful (sorry, we had to) recreation as heard here.

Even at just over three minutes in length, there's no resisting the awesome power of Tengger Cavalry's slight overhaul of the original Master of Puppets title track. The band's style is an intersection of Mongolian culture and heritage and heavy metal and this cover selection is no exception — there's throat singing mixed with ritualistic clean singing and melodies played on the igil (a two-stringed Tuvan instrument played with a bow).

It's hard to argue that Van Canto, Germany's a capella metal group, are not the genre's most unique band. As far as traditional instrumentation goes, they've only got a drummer and lead singer, who is flanked by vocalists who imitate the guitar and bass parts (dubbed "rakkatakka" with designated high and low variations and "wah-wah").

At least nobody in Van Canto was confronted with matching James Hetfield's inimitable down picking since there's no actual guitar in this band. Even if this doesn't get your metal blood boiling, you have to admit this version of "Master of Puppets" is pretty damn impressive.

When you're Dream Theater, you can pretty much do anything because your band is teeming with perfectionists. The prospect of covering the entire Master of Puppets record live would be the most masochistic of tasks for just about any musician not named James LaBrie, John Petrucci, John Myung, Jordan Rudess or Mike Portnoy (well, or the fellas in 'Tallica), but moments like this is what these prog legends were built for. Of course their take on the mighty title track is flawless, what else did you expect?

If you're not familiar with Los Angeles' Vitamin String Quartet, there's no better time to get to know them than right now. Formed in 1999, the modern classic group has pumped out over 400 albums, a great deal of them being classical spins on iconic rock and metal songs.

Metallica are no strangers to classical music — they've used Ennio Morricone's "The Ecstasy of Gold" as their show opener for over three decades (here's why) and did those two S&M albums with a symphony orchestra. Simply said, this is maybe the best classical version of a metal song we've ever heard. Then again, we haven't caught up on those 400 VSQ records, so it's hard to say for sure.

Now defunct Australian group Pendulum were a drum and bass outfit that had some light crossover into rock and metal during their career, having recruited both Steven Wilson (Porcupine Tree) and Anders Fríden (In Flames) on their 2010 album Immersion.

It's on their 2009 live record Live at Brixton Academy where their remix of "Master of Puppets" appears and the track is surprisingly well-suited for this bass heavy subset of electronic music. If you haven't heard Pendulum's Hold Your Colour album, do yourself a favor and check that out, too.

Finland's Apocalyptica formally introduced themselves in 1996 with their Plays Metallica by Four Cellos album, a collection of cover songs that needs no further explanation as to what to expect. The record came out in the thick of Metallica's '90s explosion, but during a tumultuous time for metal on the whole, much less such niche interpretations of Metallica favorites.

Against all odds, Apocalyptica broke through it all and this cover came before Metallica even collaborated with a symphony orchestra for the S&M album!

Twinkle Twinkle Little Rock Star

If you're saddled with a newborn — sorry, blessed with the gift of life and nurturing a vessel of untapped human potential — and can't blast metal because you're trying to put that baby to bed, there's an ideal compromise to be made — the lullaby version of "Master of Puppets" courtesy of the Twinkle Twinkle Little Rockstar compilation series. "Enter Sandman" isn't the only 'Tallica track that will whisk you off to Never, Neverland. Oooh-yeahhh-ahh!

This all-star cover — Bruce Bouillet (guitar, Racer X), Rocky George (Suicidal Tendencies, guitar), Randy Castillo (Ozzy Osbourne, drums), Mike Inez (Alice in Chains, bass) and Whitfield Crane (vocals, Ugly Kid Joe) — first appeared on the 2004 compilation, Metallic Attack: The Ultimate Tribute.

A cast of ever-capable musicians escaped the obvious lack of chemistry and even added a bit of flair over the original with some light lead guitar accents. Crane also walks the perfect tightrope between melodic singing and rhythm-oriented grit.

Nanowar of Steel, Italy's premiere comedic/parody power metal battalion, hammed it up on their cover of "Master of Puppets," which they partially re-wrote as "Master of Pizza." Sorry, we put "ham" and "pizza" in the same sentence, but you're just gonna have to deal with that. The lyrics are pretty nonsensical (the ones in English at least — this writer forgot most of the five years of Italian he took in school) but, whatever, it's fun! If you need your metal to be all serious all the time, well, that really sucks for you.

Who says punk and metal have to be enemies? Punk played an integral role in thrash's development — rhythmic riffs, fast tempos — so it's only right that SoCal punk rock group Dr. Know paid respect to the genre punk helped create. This take is a bit unhinged and Dr. Know definitely took some liberties with how the riffs are played, nestling James Hetfield's aggressive style well within the confines of less aggressive music that's just as rebellious.