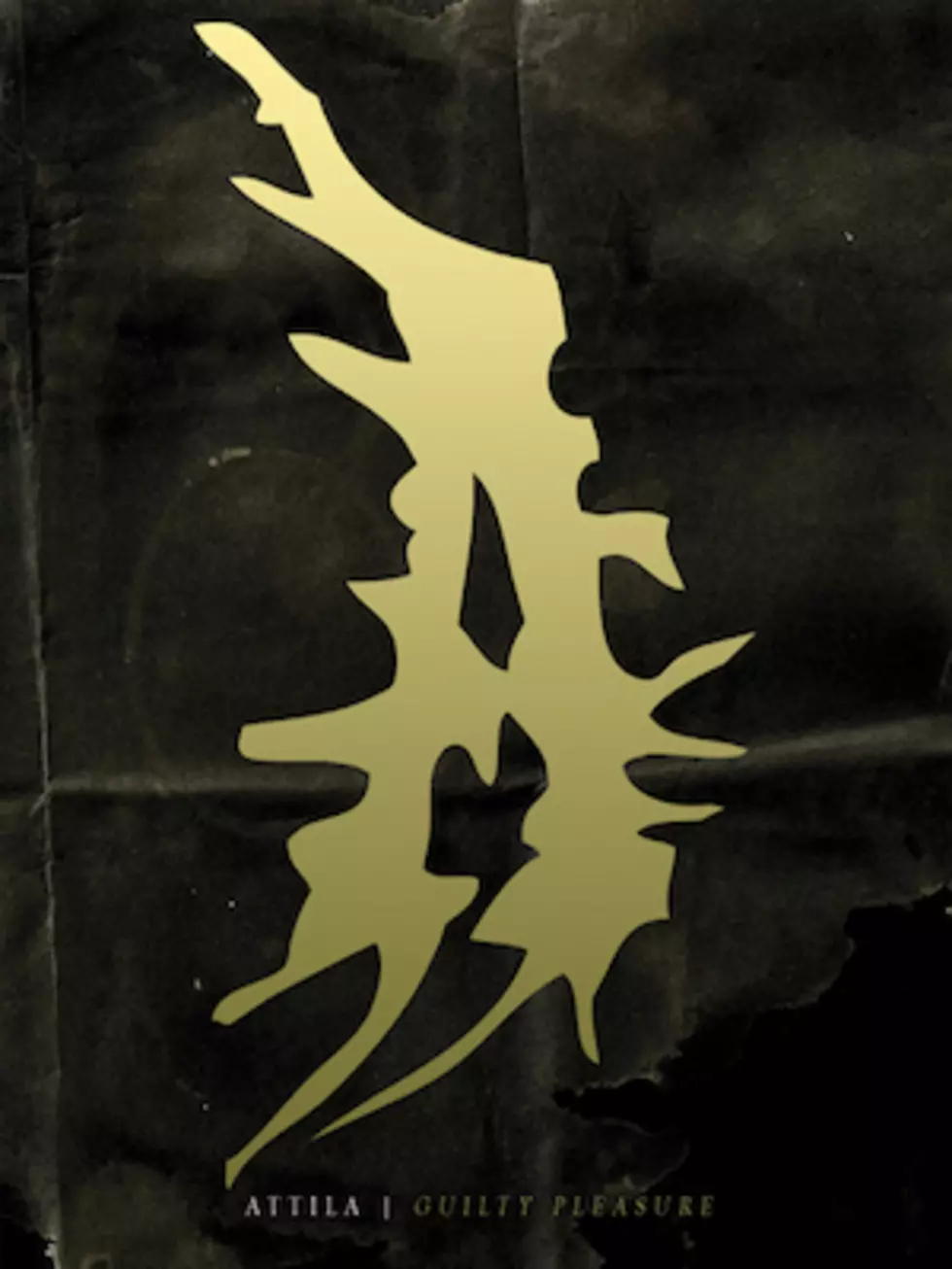 Attila Unveil New 'Guilty Pleasure' Album Details + 2014 Tour Dates
Razor & Tie
Notorious party animals Attila have announced their new album 'Guilty Pleasure' will be released on Nov. 24. The Atlanta-based metalcore band are also lining up support for the disc, unveiling a 27-date North American tour in support of the effort, which kicks off in Ft. Lauderdale, Fla. on Nov. 11 and wraps in Boston on Dec. 14.
Attila frontman Chris 'Fronz' Fronzak said the band has been working on their new album for over a year. "I am 100 percent confident that this is the best album we've ever created," he boasted. "Whether you were a fan of 'About That Life' or a fan of 'Outlawed,' this album will appeal to everyone. Even if you pretend to hate our music, you will love this album. It will be your guilty pleasure."
The frontman also said the effort is the "heaviest album we've ever written." 'Fronz' continued, "It still has our signature sound but it's a new refreshing twist. Lyrically, I really expanded my horizons. I wrote the most personal song I've ever written on this album. I still have some ignorant party hits, but I also drop some serious knowledge on this album." He concluded, "Open up your ears and take it all in; we're about to drop the best album of 2014."
As mentioned Attila will release 'Guilty Pleasure' on Monday, Nov. 24.
Attila 'Guilty Pleasure' Track Listing:
1. 'Pizza, Sex and Trolls'
2. 'Hate Me'
3. 'Rebel'
4. 'Guilty Pleasure'
5. 'I've Got Your Back'
6. 'Proving Grounds'
7. 'I Am Satan'
8. 'Break My Addiction'
9.  'Horsepig'
10. 'Dirty Dirty'
11. 'Fake Friends'
12. 'Don't Be Basic'
13. 'The Cure'
'Monster Energy Outbreak Tour Dates' featuring Attila, Crown the Empire, Like Moths to Flames and Sworn In:
11/14  -- Ft. Lauderdale, Fla -- Revolution
11/15  -- Orlando, Fla -- The Beacham
11/16  -- Atlanta, Ga. -- The Masquerade
11/17 -- New Orleans, La. -- House of Blues
11/19 -- Corpus Christi, Texas -- Concrete Street Pavilion
11/20 -- Austin, Texas -- Empire Garage
11/21 -- San Antonio, Texas -- Backstage Live
11/22 -- Houston, Texas -- House of Blues
11/23 -- Dallas, Texas -- House of Blues
11/25 -- Albuquerque, N.M. -- Sunshine Theatre
11/26 -- Mesa, Ariz. -- Nile Theatre
11/28 -- Sacramento, Calif. -- Ace of Spades
11/29 -- San Diego, Calif. -- Soma
11/30 -- West Hollywood, Calif. -- House of Blues
12/2 -- Salt Lake City, Utah -- In the Venue
12/3 -- Denver, Colo. -- Ogden Theatre
12/4 -- Lawrence, Kan. -- Granada Theater
12/5 -- St. Louis, Mo. -- Ready Room
12/6 -- Detroit, Mich. -- The Fillmore
12/7 -- Cincinnati, Ohio -- Bogarts
12/8 -- Chicago, Ill. -- House of Blues
12/10 – Cleveland, Ohio -- House of Blues
12/11 -- Baltimore, Md. -- Sound Stage
12/12 -- Philadelphia, Pa. -- TLA
12/13 -- New York, N.Y. -- Irving Plaza (Early Show)
12/13 -- New York, N.Y. -- Irving Plaza (Late Show)
12/14 -- Boston, Mass. -- House of Blues