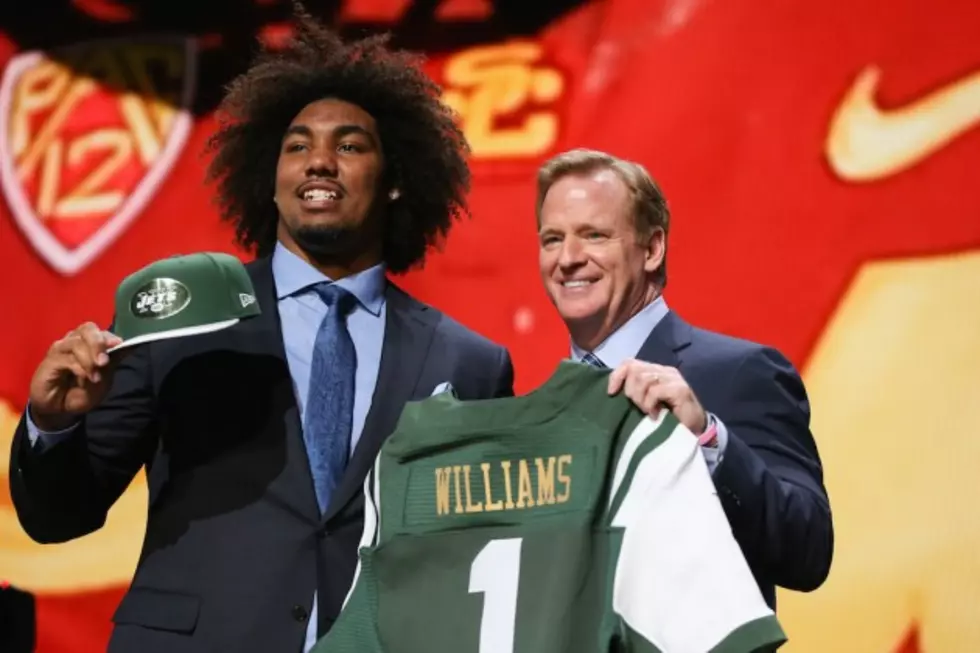 5 Things We Learned From the First Round of the 2015 NFL Draft
Getty Images
The first round of the 2015 NFL Draft was completed on Thursday night in Chicago. There were no huge surprises, but we did learn a few things from the night's activities:
1. Jameis Winston's Off-Field Questions Didn't Bother Tampa Bay
The Tampa Bay Buccaneers waited a long time to draft a franchise quarterback. Thursday was their day. Though questions swirled around former Heisman Trophy winner Jameis Winston, the Florida State signal-caller was the obvious choice at No. 1 for the scuffling Bucs. From shoplifted crab legs to shouted obscenities and other charges, Winston (NOT pictured) has deflected character questions while hoping scouts focus on his immense passing ability. He won't have to wait long to show what he's capable of on — and off — the field in the NFL.
2. Teams Weren't in a Trading Mood
Despite all the trade talk, particularly around the Titans' No. 2 overall pick, only two relatively minor deals were completed during Thursday night's first round: the 49ers traded their first-round No. 15 overall pick to the Chargers for their first-round No. 17 overall, fourth-round No. 117 overall and a 2016 fifth-round pick and the Lions traded their first-round No. 23 overall pick to the Denver Broncos for their first-round No. 28 overall, fifth-round No. 143 overall, a 2016 fifth-round pick and C Manny Ramirez.
The shocker: somehow the Eagles didn't trade for Oregon QB Marcus Mariota or anyone else. In the off-season, Philadelphia moved former starting quarterback Nick Foles for a gimpy Sam Bradford. They also signed Tim Tebow and re-signed Mark Sanchez. Maybe two Heisman Trophy-winning quarterbacks who might not be ready for NFL game speed are enough for head coach Chip Kelly?
3. The Raiders Really Liked Amari Cooper
When the Oakland Raiders were on the clock for the fourth-overall pick, many expected the perennial AFC West doormats to select pass-rushing defensive end Leonard Williams of USC (at top of post) if he was available. NOPE. The Raiders decided to take (arguably) the best wide receiver in a deep draft at the position: Alabama's Amari Cooper.
While the Raiders did need a game-changing wideout, they could have gotten a similar skill set in Kevin White, DeVante Parker, Breshad Perriman or others later in the draft. Cooper won't disappoint, but if Williams becomes a quarterback-sacking force for the New York Jets, who took him No. 6 overall, Oakland may regret passing on his talent.
4. It's Cool to Draft Running Backs Early Again
When Todd Gurley went to the St. Louis Rams at the 10th-overall pick in the draft, it broke a two-year drought since a running back was selected in the first round. It was more than a little surprising considering Gurley tore his ACL in November while at Georgia. For good measure, San Diego selected Melvin Gordon of Wisconsin at No. 15.
Though their talent is evident, both Gurley and USC wide receiver Nelson Agholor, who went at No. 20 to the Eagles, seemed like reaches in the first round. Perhaps both franchises expected to be able to land a trade that would have made for a better Draft Day? Only time will tell.
5. The University of Washington Is a Football Factory. Who Knew?
No one would have been surprised if an SEC or Big Ten school had landed three of the first 32 players taken in the 2015 NFL Draft, but Washington? Yes, the Pac-12's Huskies had defensive tackle Danny Shelton picked No. 12 by the Cleveland Browns, defensive back Marcus Peters chosen No. 18 by the Kansas City Chiefs and linebacker Shaq Thompson selected No. 25 by the Carolina Panthers. All that from a team that finished 8-6 and lost the Cactus Bowl to Oklahoma State. Maybe the NFL executives really like traveling to the Pacific Northwest?