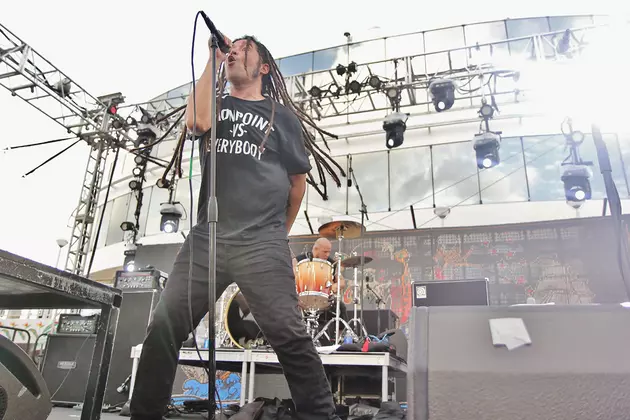 5 Questions With Nonpoint's Elias Soriano: ShipRocked, New Album + Lzzy Hale Admiration
Liz Ramanand, Loudwire
It's going to be one hell of a year for Nonpoint. Not only did they kick off 2016 with ShipRocked, but they are also set for a tour with Disturbed that kicks off in March. When we caught up with frontman Elias Soriano he also dished about a brand new Nonpoint album due out this summer. He also expresses his respect and awe for Halestorm and his plan to get Lzzy Hale to collaborate with him.  Check out our full interview with Elias Soriano of Nonpoint below:
You are no stranger to ShipRocked. What keeps you coming back?
Really the whole vibe, honestly it's like one of the only vacations that I can go on and not get stared at the entire time, in a bad way I mean. I'm in an interracial relationship; I'm Puerto Rican and Dominican and my wife looks Caucasian, with our daughter in between us, sometimes in certain areas you kind of get the looks every once in a while. It's nice to be walking around in the dreadlocks and the tattoos and the piercings and nobody gives a s--t. It's nice to feel okay in your own skin.
Aside from Nonpoint, what is one band you would want to be a part of that's on ShipRocked 2016?
You know what, I wish I could do like a Lady Antebellum thing with Lzzy [Hale] from Halestorm, I wish I could do a duet group with her because that's one bad b-tch right there, man.  Seriously, she is a f---ing star, it's so good to see people like that doing well. I think she's more like a good sounding Axl [Rose] with Slash's hands, I think she's the full package. It's not about her being a female it's about her being talented, I'm proud to call myself a fan. It reinstates my hopes for the rock industry as a whole, to see bands like Halestorm do well.  If you talk to her, tell her I want to do a duet with her, I would love to do a song with that woman. I saw her on the back buffet, she woke up late, I woke up late and I was like, "Yay, she's here too!" She brought her mom I brought my mom. Maybe I should introduce her mom to my mom and do some covert ninja stuff behind the scenes. [Laughs]
What does the rest of 2016 have in store for you and Nonpoint so far?
We head into the studio and we have a tour with Disturbed in March and then pick up the run for the release for the record.
How has the progression of the new material been coming along?
Every f---ing bands says this, it's some of our best work ever, having B.C. [Kochmit] -- we've been chasing B.C. for seven years now trying to get him in the band -- on guitars do a lot for songwriting, for me especially. Hearing guitar riffs that you know are going to make an impact on people gets you excited to sing over top of or when I come with a vocal and it comes back with a guitar riff I never would have thought of but I adore -- there was a lot of that on this record. There was a lot of good kind of struggle where disagreements for months on one thing in a song really came together at the end. When we sat back to look at it, we almost couldn't believe that it was over.
The record is ready to be recorded, it's done, all the songs are written all the parts are done. I've never had such a stress free process going into the studio, being so well prepared. I don't even want to jinx it, I don't know what's going to happen, it's always a Nonpoint record but it's kind of like what the self-titled and what The Return were, you know it's us but there's something different about the records that really gained us a new group of fans. B.C. has taken us to a new level and having Rasheed [Thomas] in the band and having another voice and the fact that all three of us can sing together, it's going to be pretty insane.
Talk about your relationship with Disturbed, since you will be trekking around with them this year.
Oh man, our first Ozzfest was with those guys in 2001 and we immediately became friends. They're talented guys, [Dave Draiman] can sing his f---ing ass off, all together that group works. They deserve every bit of success that they got. We've definitely had our difficulties in the industry and they've always been a champion of our band and they've never been reluctant to put us on a tour. We did their comeback show in Chicago and I think that whole night kind of opened up the opportunity for us and re-triggered their minds on a tour together. It's massive, I can't believe it, it's going to be a lot of fun.
Our thanks to Elias Soriano for the interview! Check out Nonpoint's tour dates with Disturbed, as well as their headlining show, here!